Sports
MJF calls Trish Stratus "annoying"
Maxwell Jacob Friedman is arguably the top heel in AEW and is currently involved in a feud with his former bodyguard Wardlow.
WWE Hall of Famer Trish Stratus and MJF were a part of the recent For the Love of Wrestling convention in Liverpool, United Kingdom.
MJF put out a tweet on Sunday after returning to the United States saying that Stratus would not leave him alone and even went on to call the legendary wrestler "annoying". So it seems the two spent a lot of time together during their visit to England.
We haven't heard Trish's side of the story as yet. There were other superstars who participated in the event like WWE Hall of Famer and current AEW Superstar Sting, former WWE Superstars Braun Strowman (Adam Scherr), Bray Wyatt (Windham Rotunda), and Bo Dallas (Taylor Rotunda) to name a few. WWE Hall of Famers like Kurt Angle and Torrie Wilson were also present.
The event also saw reunions for the New Age Outlaws and the Wyatt Family.
Is Trish Stratus in line for a WWE return?
Trish Stratus has expressed her desire to have another match and named Becky Lynch as someone she would like to take on.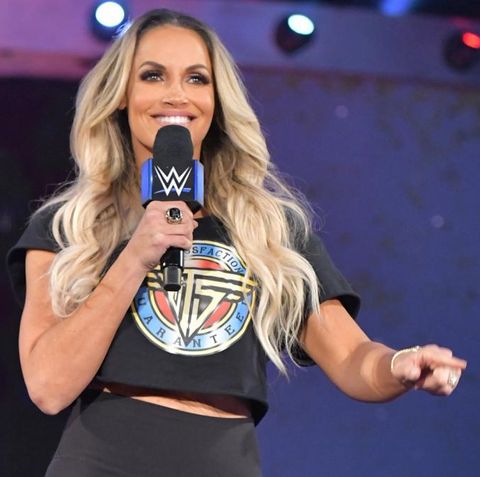 Becky Lynch beat Stratus' best friend Lita at the 2023 Elimination Chamber. During the feud, Lynch had some harsh, disrespectful things to say about Lita. Trish didn't like how Lynch spoke about a fellow Hall of Famer and has been open in wanting to teach her a lesson in respecting legends.
In a recent WWE live event in Canada, Trish slapped "The Man" and celebrated with Rhea Ripley. Trish Stratus recently came on WWE's The Bump and had this to say about Lynch:
"She [Becky Lynch] had some words and that's what started the whole thing as she was kind of rude and disrespectful to my Hall of Famer by the way bestie. So that's kind of what sparked things and made me start to think that Becky's a bit of a brat based on that reaction, interaction."
Fans are hoping to see this dream match but for now, Becky will be involved in a feud with Asuka that will go on for at least a month. However, the Trish Stratus-Becky Lynch match could be scheduled for SummerSlam.
More WWE news
Follow our dedicated WWE page for instant WWE news and updates.