Tech
How To Send Anonymous Text Messages For Free In 2022
You might be thinking of how you can send an anonymous text message either to use it to Prank your friend or you don't want the person you are or you want to send the message to, should find out you are the sender, not to worry for we are going to be talking about how to send anonymous text message for free and also look into some paid app or site that can also help you carry out the operation successfully. 
Usually it's quite fun to send an anonymous message in form of Prank just to use it to Prank your friend or anyone you want to send the message to their are thousands of apps out there that you can use to send such type of messages but we will look into the few good once that you can find to use for free and the one that is premium so has to enjoy some amazing features that might be attached to it. 
Free App That can Be Use To Send Anonymous Text
As was said earlier there are several different apps out there that you can use to send an anonymous text or message to your friends or your target so we go look into the free version first on the aspect before going through the paid version of such app let being below:
Snapchat Social Media App
As the name of the app implies snapchat is a social media app that is designed mostly to be used to snap yourself or your friends with some amazing filter set-up that are already provided on such an app which is also attached with some other features like social media.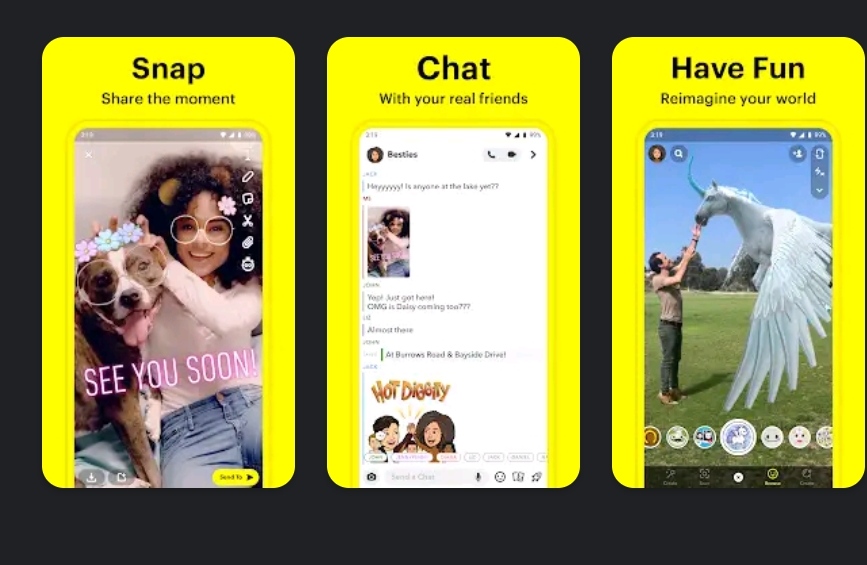 Using snapchat, then you are capable of sending an anonymous text to any of your friends using the chat feature that is present on the app. 
The app as anonymous message sent a limit of just 140 so if you are making use of it for your Prank messages you should look into the limitations. 
Burble Anonymous Text Sending App
This app is said to be designed as a secure app that allows end to end text to be sent anonymously based on the features that are present on Burble download the app and make use of it to carry out your operation. 
Mustache Anonymous Messages Sender
It's just specifically designed to help you send anonymous text or messages to your friends and love once in case you feel like pranking them. 
Mustache provides you with a feature of sending free text in limitations of just five texts. After that you will be asked to purchase their premium feature before you will be able to send the next text which is now for free respectively. 
Using Yik Yak To Send Anonymous Message 
If you have been searching for how to send anonymous text messages for free then this is the rightful app for you which this app called Yik Yak allows you to send Prank messages to your friends for free without disclosure of your details or others. 
It also helps you to discover who you can send the text to in your location using your phone location to track and bring you the best result of people that are around you respectively. 
Private Text Messaging App
This app allows you to send text messages in anonymous ways for free which does not only allow you to send text only for it also allows you to send other things like images and files through the help of the private text messaging & call app. 
That also handles your calls for you privately. Without disclosure of your details to the person. 
Unfortunately this app is only designed to help only android user's to achieve their aim with the app respectively. 
Signal Instant Messaging App
Most know the app as a social media but they don't know it's capable of sending an anonymous text or images to their friends. 
The signal messaging app is not just designed to send messages to people you know, only you can also use the app to send Prank messages to your friend in anonymous ways. 
It works in the same way as telegram which will grant you or provide the recipient with an ID that can not just disclose your other details. 
Telegram Instant Messaging App
Yes, don't be surprised you can use telegram to send an anonymous message too to your friend by using the message send features either using telegram or getting the person number and sending them what you need to send. 
Not all apps that are provided above can be used to send an anonymous message for free, some are attached with premium features which recommend you should look around all and see which one will be suitable for use. So have to send your anonymous text. 
Where Can I Get the Above App From? 
It's very easy to get most of the appsi provided above that can help you send your anonymous messages are popular apps which you can get to download from your app store or play store. 
So visit search for the app and download it straight to your mobile device. 
Websites That Can Be Use To Send Anonymous Text
There are several websites out there that help you to send text anonymously for free which will just pick or talk about the best out of them and move on to the next stage. Let's look into them. 
Text 'em Anonymous Text Sender
This website seems like something that has been in existence for quite a long time with the way it was designed or displayed but still will allow you to send your anonymous text messages by just following the simple procedures.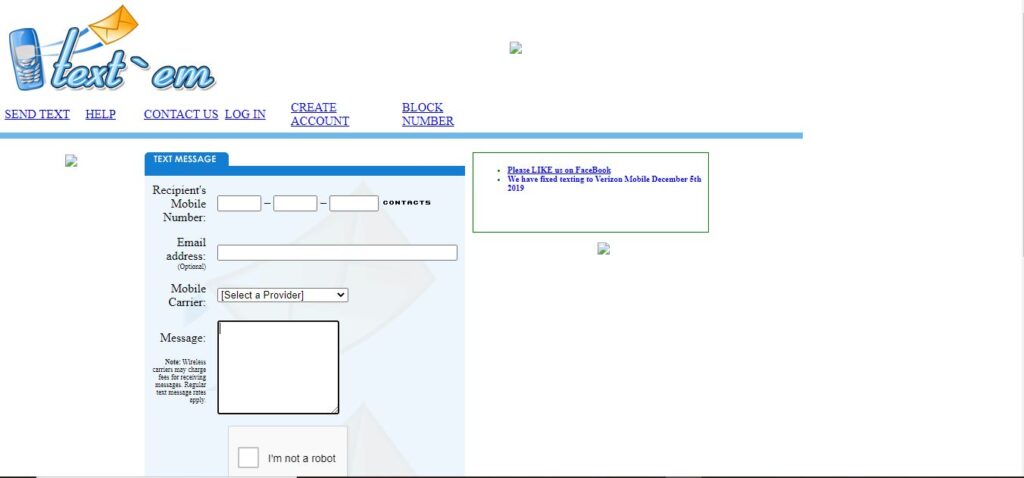 You can use Text 'em to send your Prank messages by just providing your message, who you want to send to another related field to be fill solve the caption, and boom you are good to go. 
TextforFree Message Sender
These websites provide you with features that will allow you to send your anonymous messages for free with the website's domain textforfree.net that allow you to send by just providing the correct number and it will roll out to the user anonymously.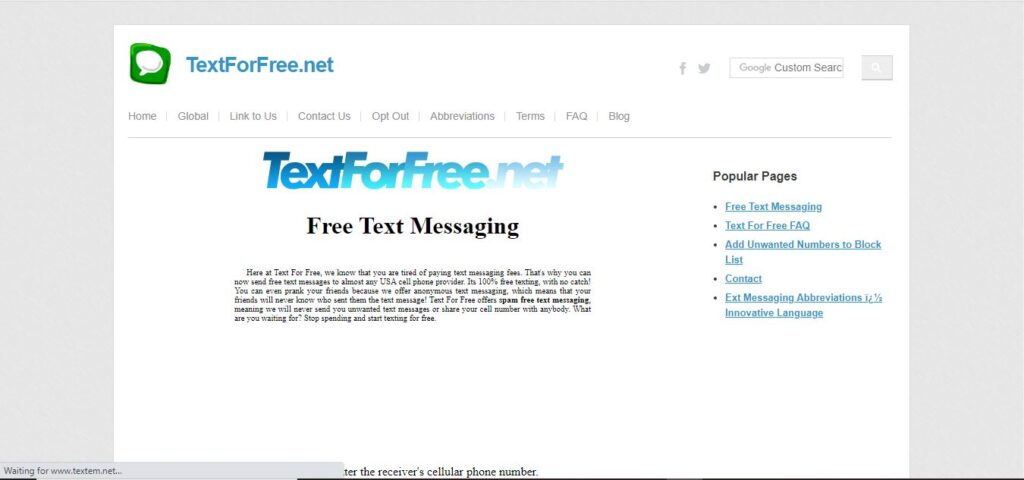 As when this article was created it seems the websites grant access to US users only but you can just check out visit and look into it if your phone number country codes are present or are available to send anonymous text on the site respectively. 
TextEmNow Anonymous text Sender 
This site also allows it's visitor or users to send anonymous text messages or Prank messages without even signing up at all. 
We recommend making use of a brave browser to access the websites when visiting so as to by-pass the ads section, to be able to see them. Anonymous text sender on the site. 
TextEmNow allows you to send anonymous messages internationally which you should not worry about again if you are not from the US when making use of the site to send your text.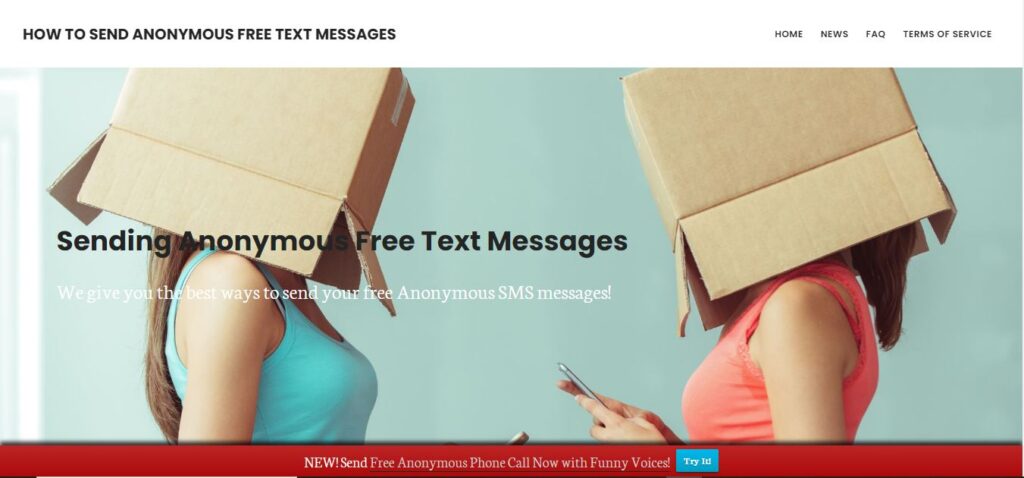 You can actually use the site to send more than one message at a time by just a single click and some little procedures to follow respectively. 
SendAnonymousSms Text Message Sender 
As the name implies SendAnonymousSms is just designed to help you send your anonymous message for free which can operate around the world. 
It'll help you to send the message once sent but you will have to provide your own phone number on the site once you feel like sending the anonymous messages simple  for security purposes I think. 
So visit and look into the site and see how it works. 
Disclaimer: this artist is strictly provided for information and educational purposes. Use it when you know what you are making use of it for. 
Conclusion 
We hope you're able to gain an intensive knowledge on how you can Prank your friend's view by sending text messages or images using the app and websites provided in this article. 
If so, don't hesitate to share ideas with your friend by telling them about this website and you get to know about the knowledge you recovered. 
Always remember to come back for more related posts.