Guides
Best Sports Games on PS5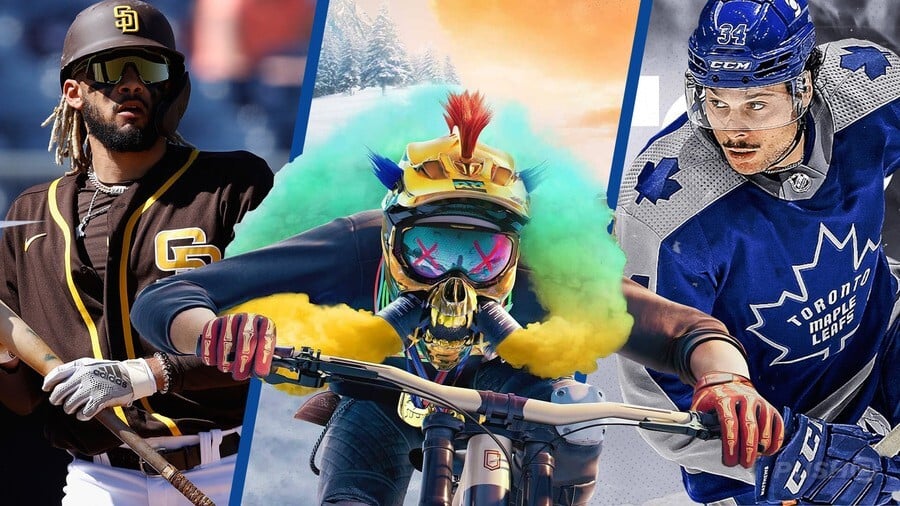 What are the best sports games on PS5? Whether you're the kind of person who thinks football should be played with your hands or your feet, sports games are enormously popular on PlayStation, and there's a growing selection available on the PlayStation 5. We're combining both arcade and simulation titles for this list, so regardless of whether a release is a replica of the real thing or a little more off-the-wall, you'll find it on this page.
Sports games, typically, subscribe to annual release cycles, especially when it comes to the genre's heaviest hitters, like FIFA and NBA 2K. However, not every title within has been developed in a 12 month period: Knockout City, the brilliant dodgebrawler from Velen Studios, is a tantalisingly original idea – and it took years for Activision to do justice to Tony Hawk's Pro Skater 1 + 2, which were among some of the best games on the PS1.
The inherent nature of sports means many of the games you'll find below have strong multiplayer suites, both online and offline. However, many of them can also be enjoyed solo, whether you're working towards a starting quarterback gig in the Madden NFL or assembling your dream bullpen in MLB The Show. We've also incorporated motorsports here if you prefer clutches to cleats, and many of the best sports games on PS5 are enjoyed from the comfort of a cockpit.
Of course, the classification of these titles is one thing, but it's up to you to determine the order. Don't sweat it if you feel your favourite is out of place, because it's ultimately up to you to do something about it. You'll find a search bar below which will allow you to rate any of the PS5's many sports games, and this list will automatically update according to your tastes.
Please do keep in mind that a title will need at least 10 ratings before it appears on this page, so if you're wondering why your favourite Japanese horse racing franchise is struggling to clear this hurdle, that could be why.
Best PS5 Games
With all that said, it's time to suit up and begin our list of best sports games on PS5. Is this a league table you can get behind?
20. Madden NFL 21 (PS5)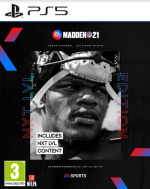 Publisher: EA Sports / Developer: EA Tiburon
Release Date: 4th Dec 2020 (USA) / 4th Dec 2020 (UK/EU)
A disappointing foray into the new generation for EA Sports' flagship American football sim, Madden NFL 21 dropped the ball in a number of areas, specifically Franchise mode. The upshot is that the backlash led to the publisher returning to the playbook for Madden NFL 22, which is a much more complete overall package. This new-gen version of Madden NFL 21 does include some nice additions over its PS4 predecessor, including a more realistic pace powered by Next-Gen Stats and some neat visual flourishes.
19. NBA 2K21 (PS5)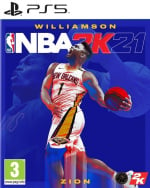 Publisher: 2K Sports / Developer: Visual Concepts
Release Date: 12th Nov 2020 (USA) / 19th Nov 2020 (UK/EU)
2K Sports took the transition from PS4 to PS5 with NBA 2K21 seriously, effectively building an entirely new basketball sim for Sony's new-gen system. In addition to the obvious graphical improvements – underlined by a seriously jaw-dropping announcement trailer – the publisher also completely redesigned the popular MyCareer mode, adding a massive open world to explore, and incorporated an entirely new women's basketball feature, named The W. There were teething troubles with this title, many of which were smoothed out in NBA 2K22, but this was anything but a lazy effort.
18. Madden NFL 22 (PS5)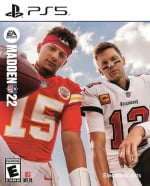 Publisher: EA Sports / Developer: EA Tiburon
Release Date: 20th Aug 2021 (USA) / 20th Aug 2021 (UK/EU)
EA Sports' flagship American football franchise has been left behind by many of the other sports games on this list, but Madden NFL 22 has at least got the brand back on track. Overdue improvements to the Franchise mode mean it finally has some key systems, like game week planning and coordinators. It's still a long way off where it needs to be, but Ultimate Team has some good content and The Yard is an enjoyable backyard alternative to authentic football. The less said about Face of the Franchise, though, the better.
17. FIFA 21 (PS5)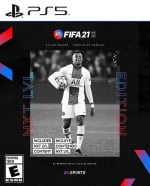 Publisher: EA Sports / Developer: EA Sports
Release Date: 4th Dec 2020 (USA) / 4th Dec 2020 (UK/EU)
As was the case with NBA 2K21, EA Sports took the next-gen transition from PS4 to PS5 as an opportunity to spruce up FIFA 21 in some significant ways. While the biggest changes, namely HyperMotion Technology, would be reserved for FIFA 22, the publisher delivered one of the more significant graphical passes in the franchise's history, adding luxurious new hair physics and some truly impressive player models. The package was, as a whole, a bit uneven – and ultimately, it's still FIFA at the end of the day – but this represented a strong start to the new generation for the ever-popular soccer sim.
16. Knockout City (PS5)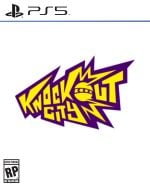 Publisher: Velan Studios / Developer: Velan Studios
Release Date: 2nd Nov 2021 (USA) / 2nd Nov 2021 (UK/EU)
Knockout City is a bit of a knockout. The self-proclaimed dodgebrawler, originally released on the PS4, mixes a retro-future aesthetic with multiplayer deathmatches. Your objective is to lob balls in the direction of your opponents, striking them out with two hits, but you can also catch said projectiles and add spin to your tosses. This all leads to a frantic, classic competitive experience that's easy to grasp but seriously challenging to master. Lob in different ball types, each with unique properties you need to take the time to learn, and you have the recipe for a dangerously addictive arcade sports experience.
15. NBA 2K22 (PS5)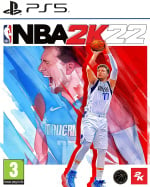 Publisher: 2K Sports / Developer: Visual Concepts
Release Date: 10th Sep 2021 (USA) / 10th Sep 2021 (UK/EU)
Available On: PS+ Extra (Until 31st Aug 2023)
NBA 2K22 is peerless in the sports genre for its sheer scope, and while many may frown at Visual Concepts' attempt at an online open world RPG in the ever-popular MyCareer mode, there's no question you could lose hundreds of hours to this title. With one of the most fleshed out Franchise modes on the market in MyNBA and a rewarding Ultimate Team alternative in MyTeam, this is the biggest and best presented sports game on the PS5. Some nice improvements to defence mean that it plays pretty clean on the court as well.
14. MXGP 2020 – The Official Motocross Videogame (PS5)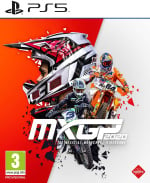 Publisher: Milestone / Developer: Milestone
Release Date: 14th Jan 2021 (USA) / 14th Jan 2021 (UK/EU)
MXGP 2020 is no scrub, even if it is a little light in the content department. Milestone's licensed motocross franchise brings with it a hearty helping of meaningful improvements, and it successfully sticks the landing. The most important of these is the gameplay, which feels immaculate thanks to impressive DualSense controller integration. While new additions like the Track Editor and sandbox-style Playground still have a few bumps to even out, this is a worthy ride for dirtbike addicts.
13. Riders Republic (PS5)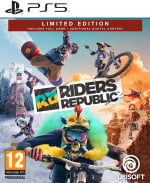 Publisher: Ubisoft / Developer: Ubisoft Annecy
Release Date: 28th Oct 2021 (USA) / 28th Oct 2021 (UK/EU)
A game that brings something a little different to the sports genre on the PS5, Riders Republic is a Ubisoft open world game with a cycling/skiing/wingsuiting skin. A massively multiplayer online sandbox, filled with both silly and serious challenges, this game is colossal in scale – something it underpins with its outrageous Mass Race competitions. It can look a little ugly and its too-cool-for-school style will grate, but cycling down mountains at 100kmph is still an exhilarating experience.
12. WWE 2K22 (PS5)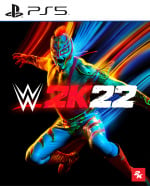 Publisher: 2K Sports / Developer: Visual Concepts
Release Date: 11th Mar 2023 (USA) / 11th Mar 2023 (UK/EU)
WWE 2K18 was such a disaster that 2K Sports took the unprecedented decision to take an entire year off, and then eventually delay WWE 2K20 as its targeted holiday release spot neared. The result, though, is a return to the form for the franchise. While not every feature in this wrestle-'em-up hits as hard as Andre the Giant, there's some real muscle on this game's bones that should keep WWE faithfuls occupied for the foreseeable future. Worth the wait, then!
11. NHL 22 (PS5)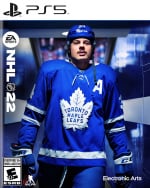 Publisher: EA Sports / Developer: EA Vancouver
Release Date: 15th Oct 2021 (USA) / 15th Oct 2021 (UK/EU)
As part of the transition to the Frostbite Engine, the team at EA Canada has achieved one important thing: don't gut the game completely. NHL 22 may share many of its features and modes with its immediate PS4 predecessor, but at least it's not been gutted like the disastrous NHL 15. The implementation of X-Factors adds some personality to the rink, and the Franchise mode is still more in-depth than many of EA Sports' alternatives in the genre.