Sports
Why did Denis Shapovalov shout "shut the F*** up" to the crowd during heated Sonego clash at Italian Open?
Denis Shapovalov got the win against Lorenzo Sonego at the Italian Open RO64 on Monday but grabbed headlines for other reasons.
Canadian tennis star Denis Shapovalov called for officials to take a stronger stand against disruptive fans after he was heckled during his three-set victory over Lorenzo Sonego at the Italian Open round of 64 on Monday. The 23-year-old seemed to lose his cool and was handed a point penalty which didn't matter too much eventually as he won the match against Sonego 7-6(5) 3-6 6-3 in Rome.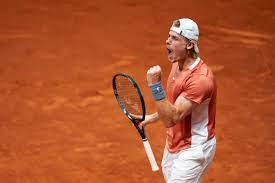 Shapovalov was extremely irked and shouted 'shut the f*** up' towards the crowd at the Grand Stand Arena. However, several tennis fans were keen to know what triggered Shapovalov at the Italian Open and why he yelled out at the crowd.
Why did Denis Shapovalov shout at the crowd at Italian Open?
According to reports, Shapovalov was infuriated when a local tennis fan in the stadium was constantly heckling him during his match against Sonego. By Shapovalov's admission, the fan was telling him to leave the court.
Shapovalov then went to complain about the punishment for the fan to the supervisor, and a number of fans began whistling and jeering at him. The young Canadian then screamed an expletive at the crowd as he believed he was being taunted by a spectator.
While speaking to reporters about his outburst after the game, Shapovalov said, "He was just telling me to get off the court, get out of there, waving me off the court. Trying to obviously get under my skin or whatnot,' scorned Shapovalov told a news conference. I think the umpire just needs to keep an eye on it if a player mentions something. The reason why [the heckler] didn't get kicked out was that [the umpire] told me he didn't see what happened."
Shapovalov will now face Nikoloz Basilashvili in the next round of the Italian Open.
More Tennis news
Follow our dedicated Tennis page for instant Tennis news and updates