Sports
Sasha Banks & Naomi heat and more!
WWE and AEW Rumor Roundup for May 19, 2023, including Sasha Banks & Naomi heat, Omos/Lashley plan, Judgement Day and more!
These are all the latest rumor roundup in pro-wrestling, which are currently afloat. So let's have a look at all the rumor roundup from WWE and AEW.more!
1. Sasha Banks & Naomi heat
WWE unexpectedly changed the main event on Monday Night RAW after superstars Sasha Banks and Naomi left the arena last night before their main event match.
This morning, PWInsider revealed that the current WWE Women's tag team champion walked out on Monday's taping in Norfolk, Virginia, after having issues with their roles in a six-pack challenged match to determine the next challenger for Bianca Belair. 
This was the statement from WWE,
"When Sasha Banks and Naomi arrived at the arena this afternoon, they were informed of their participation in the main event of tonight's Monday Night Raw," the statement began. "During the broadcast, they walked into WWE Head of Talent Relations John Laurinaitis's office with their suitcases in hand, placed their tag team championship belts on his desk and walked out. They claimed they weren't respected enough as tag team champions. And even though they had eight hours to rehearse and construct their match, they claimed they were uncomfortable in the ring with two of their opponents even though they'd had matches with those individuals in the past with no consequence.
"Monday Night Raw is a scripted live TV show whose characters are expected to perform the requirements of their contract. Therefore, we regret we were unable to deliver, as advertised, tonight's main event."
There have been several reports that Sasha Banks and Naomi were told before RAW by producer Molly Holly that WWE was going forward with plans for the six-pack challenge. Banks and Naomi informed WWE Executive Vice President of Talent Relations, John Laurinaitis, that they were leaving, giving him the WWE Women's Tag Team Championships. The report echos WWE's statement regarding the matter during Monday Night RAW last night.
Now according to PW Torch, Behind the scenes, there wasn't a lot of instant sympathy for Sasha Banks & Naomi over the decision they made with the belief apparently being
"where did that come from, and how did they get themselves so worked up over this?"
And event Wrestling Observer also indicated that there's a lot of heat on them backstage now. 
2. Omos/ Lashley plan
Omos and Bobby Lashley faced off in this week's Monday Night RAW in a steel cage match. It was also the opening match of the night. 
Even though Omos got help from MVP and Cedric Alexander, he still lost the match because he made a massive but not bright move on Lashley.
Omos threw The Al-Mighty through the Steel Cage, and after the cage breaks, Lashley is laid out while omos is just standing dumbfounded. In the end, Bobby stands up and puts both his feet on the floor, giving him the victory. 
According to WrestleVotes, there were ideas pitched to do a collapsing ring angle for the Omos vs Bobby Lashley match on RAW. Still, the argument went away and never got it through to the main game. 
3. Judgement Day plan 
Ringside News had claimed that former WWE Superstar Harland was planned to be the fourth member of The Judgement Day before he was fired by WWE. Until now, the Judgment Day stable comprised Edge, Damian Priest, and Rhea Ripley until now. They successfully created the dark Aura among the roster and are looking very good and strong.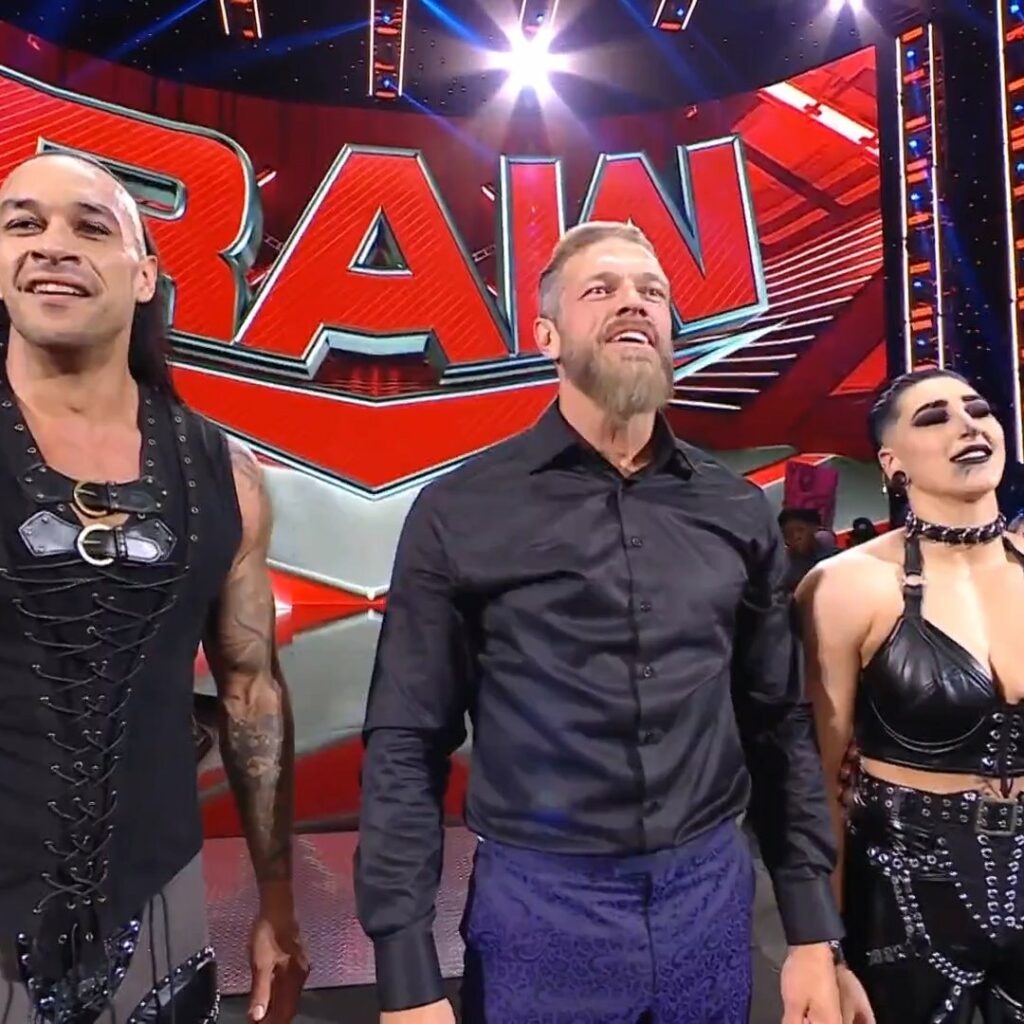 Harland was released along with Dakota Kai and Persia Pirotta. Harland had been paired with Joe Gacy until recently and was hyped as a "Brock Lesnar clone". 
4. Cody Rhodes Money in the Bank Promo 
The first promotional video for Money in the Bank 2023 was released during WrestleMania Backlash. Since Money in the Banks is a stadium show this year, WWE wants to hype the event. 
Cody Rhodes is the star of the video, and it is creating a speculation that he has to be one of the favorites to climb the ladder and bring down the case. However, the American Nightmare has made his point clear that he has come back to win the WWE title. 
Cody said during the promo that the July 3 show in Las Vegas' Allegiant Stadium is…"Where one lucky male and female Superstar will win the chance to main event WrestleMania."
This has created a lot of confusion among wrestling fans. People think that the winner will get a direct entry to WrestleMania. The promo has been shown three times and has not been edited once.
Ringside News claims the language in the Cody Rhodes Money in the Bank promo has been a "major source of confusion" for WWE writers and producers. 
More WWE news
Follow our dedicated WWE page for instant WWE news and updates.