Sports
Ryan Tannehill clears the air on Malik Willis
Ryan Tannehill earlier claimed that it wasn't his job to mentor Malik Willis, and his comments received a lot of backlashes.
Ryan Tannehill is the quarterback of the Tennessee Titans. He has been under pressure since his disaster performance in the AFC Divisional Round loss against the Bengals. The Titans were the first seed in the AFC, but they were unable to win a single match in the playoffs.
This had brought a lot of outbursts towards Tannehill. Moreover, the Titans drafted Malik Willis from Liberty in the 2023 NFL Draft. This came as a shock to everyone, as nobody believed that the Titans will pursue Malik when Ryan is already there. There were rumors about Ryan's place being in danger due to Malik.
Earlier he was asked about how will he help Malik, who is coming into the NFL as a rookie. Ryan claimed that it wasn't his job to help him. These comments brought a lot of backlash towards Ryan, as everyone thought that he is being arrogant, and is feeling the pressure of losing his starting role.
Ryan cleared out the air about his comments. He said, "I meant no disrespect to Malik or anything close to that, We've been in constant communication since he was drafted, through the madness that ensued after my last press conference and over the last few weeks as he's been in the building and kind of getting to know each other."
"He's a talented player"- Ryan Tannehill on Malik Willis
Ryan Tannehill continued to heap praise for his rookie counterpart. He said, "He's a good person. He's a talented player. He's coming off a great college career. We're happy to have him in the room. Really just kind of disappointed in how things got spun and twisted a little bit."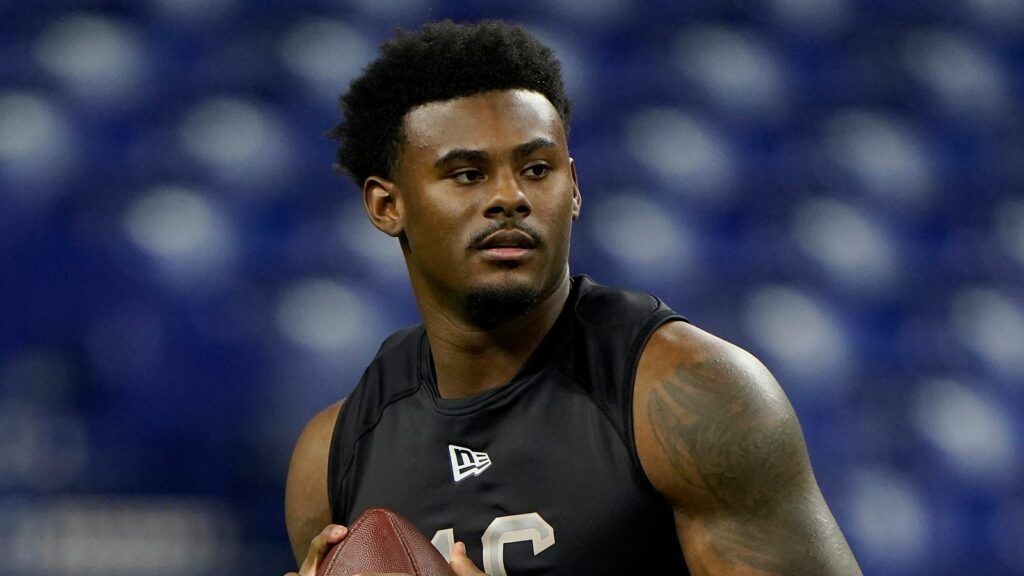 Tannehill further talked about how he is a great teammate, and how he has always put the team in front of himself. He added, "I pride myself on being a great teammate. I have my whole career," Tannehill said. "Going back to the time I was a kid playing youth sports, it's been something that's been important to me from the beginning and will always be important to me. It's something I'll try to instill in my kids as they start playing youth sports is being a great teammate."
Tannehill further said, "Another thing that I think was blown out of proportion was when I said the word 'compete.' I compete every time I set foot on that football field. I compete against myself and the player I was the day before, the lessons I learned, the little things that I picked up off the tape. I'm competing against the defense if we're going against the defense. If we're doing QB drills, then I'm competing with whoever else is out there. That's just how I'm wired."
Malik Willis earlier had cleared his stance on Tannehill's comments
Malik Willis was one of the most promising players of this draft. He is arguably the best quarterback in this class. However, he fell down quite low in the draft. As a result, the Titans were able to get him.
He is likely to be on the bench for the first few seasons of his NFL career. If Ryan falters, we can see Malik pretty quick at the starting job, which is why people thought that Ryan was being insecure about his place.
Malik responded to earlier comments made by Ryan about not mentoring him. He said, "What comment?" Oh, man, we chopped it up. I mean, it was never anything negative. Ryan's a good dude. Like I said he had us over to the house. Everything's cool."
Ryan Tannehill will cherish the opportunity to compete with Malik Willis. Willis is a dual-threat, and he can transform into a player like Lamar Jackson, and he could be very lethal.
Talking about the competition between them, Tannehill said, "We're going to continue to push each other, to learn from each other in the QB room, encourage each other as this thing goes forward, We're all here for one goal. My primary focus is to win football games as everyone in this building."
Read More:
Follow our dedicated page of NFL for instant NFL news and updates.