Games
Nintendo Download: 4th August (North America)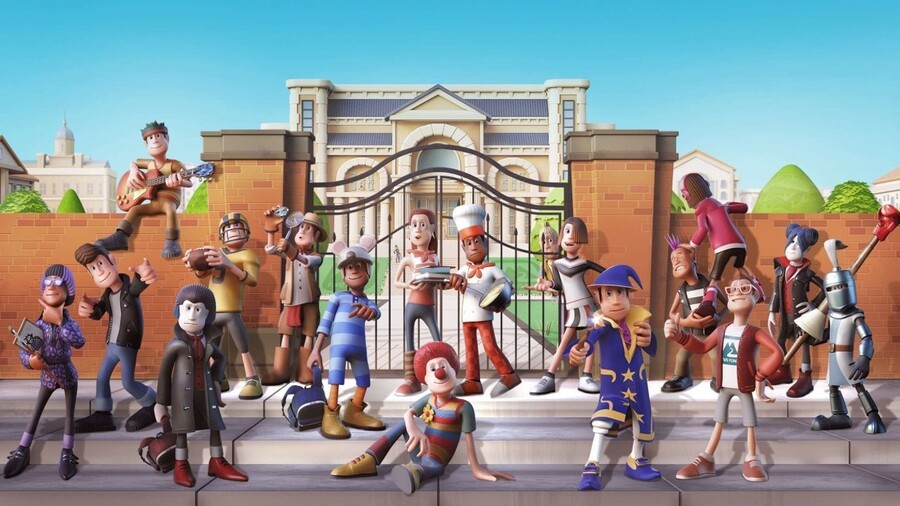 The latest Nintendo Download update for North America has arrived, and it's bringing new games galore to the eShop in your region. As always, be sure to drop a vote in our poll and comment down below with your potential picks for the week. Enjoy!
Switch eShop – Highlights
Hindsight (Annapurna Interactive, 4th Aug, $14.99) – What if the physical objects of everyday life, the possessions we hold close, were actual windows to the past? Peer into distant memories and unseen futures in Hindsight. From the creator of Prune, Hindsight is a narrative exploration game spanning the entirety of a woman's life, from birth to present day, as she tries to make sense of it all. Revisit her childhood home, sort through personal belongings and step through windows to memories frozen in time. Pay attention to the little things and piece together puzzles to shift your viewpoint until you find just the right perspective to pull you deeper into the past. Long forgotten memories and dreams cascade into one another. Linger as long as you wish, but sooner or later you must come back to the present. What will you take with you? And what will you leave behind? Hindsight is available later today. – Read our Hindsight review
Mario Kart 8 Deluxe Booster Course Pass Wave 2 – Double your course options with the Mario Kart 8 Deluxe – Booster Course Pass DLC!* A total of 48 remastered courses from throughout the Mario Kart series are racing to the Mario Kart 8 Deluxe game as paid DLC. Content will release in six waves of eight courses by the end of 2023. Racers who have an active Nintendo Switch Online + Expansion Pack membership** will have access to all of these newly added courses as they are released at no additional cost. Mario Kart Deluxe 8 Booster Course Pass Wave 2 is available from 4th August.
Switch eShop – New Releases
9 in 1 Puzzles (Kistler Studios, 21st Jul, $3.99) – If you are looking for casual puzzles games this collection is for you ! 9 In 1 Puzzles is a collection of nine casual puzzles games. Simple and easy to play makes this collection a must have for every casual puzzle gamer.
90'' Soccer (Software Scribes, 5th Aug, $4.99) – Choose your team and face your opponents in quick and wild matches to claim victory. – Play against other players on local, or online play. Arcade tournament for a quick play. League mode for longer play sessions. Use voice chat with friends, or text messages with everybody. Change formation before starting a match. Choose your challenge with five difficulty levels.
Adopt an Animal Near Me (Cooking & Publishing, 28th Jul, $3.99) – Once the important decision to adopt an animal has been made, the interview phase begins. It is important that all those who are going to live with the animal meet some basic requirements, for that reason, the shelter will ask you a series of questions to check that you have all the characteristics of a true animal lover. If you fail any question the volunteers will find out that you are lying and will not entrust you with the life of a pet.
After Wave: Downfall (7 Raven Studios, 4th Aug, $14.99) – After Wave: Downfall is an arcade shooter where the player battles against monsters, completes various missions with a cool battleship. Deathrix invaded the world and released a mysterious meteorite causing a great flood. Players can upgrade their ships for better performance to fight the most brutal enemies. A Local Co-op mode allows the player to team up and adventure with others.
amazin' George 2 Digital Deluxe (SPACEFARER GAMES, 23rd Jul, $23.00) – More cat and maze and JRPG fun! We've updated George and his friend's appearance to look even cuter and more realistic than ever. New HD graphics and colorful areas to explore! amazin' George Digital Deluxe restores quests and areas that were cut in the original game.
Arcade Archives ROLLER JAMMER (HAMSTER, 28th Jul, $7.99) – "ROLLER JAMMER" is an action game released by Nichibutsu in 1984. Win your way up the ranks in a variety of races as you work to become a pro roller skater! The competition will call for more than just speed – you'll also need to be tough enough to hang in there and knock your opponents off the track!
Backgrounds for life (Cooking & Publishing, 28th Jul, $2.99) – From creating relaxing environments with backgrounds inspired by wild nature, to the sensation of flying in an airplane, to celebratory messages to surprise your family or friends. Backgrounds for life gives you an infinite number of possibilities to transport you to a totally different place, with 100% realistic sounds that will make you feel immersed in another place. Travel to paradisiacal beaches and sunsets, surprise your partner for Valentine's Day or prepare your workspace with sounds and images of nature
Book Quest (eastasiasoft, 10th Aug, $6.99) – Take the role of a young man who witnesses the theft of his family's magic book, which leads to a visit by his grandfather's ghost compelling him to embark on a dangerous journey to retrieve it. Explore the surrounding towns and wilderness, gather information from townsfolk, strengthen your character with new weapons and gear, track down the culprits who stole the magic book and discover the truth behind it all! Book Quest is an action-adventure RPG presented in retro pixel art style featuring cinematic cutscenes and dialogue.
Celestian Tales (Digital Tribe Games, 1st Aug, $14.99) – Celestian Tales is a beautifully hand-painted JRPG set in a world of questionable morals where opposing views clash, with no clear right or wrong. Follow the journey of six Companions, knights sworn to serve and protect the heir of a noble house, as they rise and fall in their struggle to survive a world where one's true enemies are often their closest allies. Celestian Tales is full of lush hand-painted environments, emotive portraits, memorable characters and a sprawling engaging moralistic storyline that is told through the eyes of six protagonists. The game features a turn-based combat system with plenty of character and party customization options, allowing you to play the game at your own pace and in your own style.
City Super Hero 3D – Flying Legend Warriors Deluxe Simulator (Games Radar, 28th Jul, $9.99) – Now is the time for you to become a real super hero in the city. It's time to get strong, fast, agile, smart and fearless. Complete challenging missions right now and rise to the top of glory, beating everybody else. Use your strength, intellect and wisdom to free the city from criminals and lawbreakers. You, as the main character will have to adventure and fight crime and villains by completing interesting quests with amazing rewards. You as the hero, will have to fight gangsters and other evil that have filled this city and are ruining it. You will have to gain fame and immense popularity in the city to be liked by your fellow citizens. Take part in exciting battles against tough boss battles. Show the world what a real super hero does to save the city!
Cleo – a pirate's tale (Christoph Schultz, 10th Aug, $14.99) – Cleo is a 14-year-old cynical girl, living a repetitive life with her father in a bar. She knows everything about the epic adventures of pirate legend Captain Cabeca, but in her everyday life, she is just surrounded by boring fishermen and unsuccessful pirates, hanging around at the counter. But when Cleo finds a strange pirate logbook and sees a ghost, who gives her a mysterious hint, her boring life is about to get turned upside down. She is thrown into a dangerous adventure and finds herself in a world of lies, deceit, greed and bad breath – the world of pirates – and most of them are looking for the same thing: THE TREASURE OF ETERNAL MEMORY.
Counter Recon 2: The New War (TROOOZE, 28th Jul, $14.99) – Counter Recon 2: The New War is a solo single-player/first-person shooter game. Enjoy a thrilling FPS game with a diverse play mode and various weapons that can be unlocked by leveling up.
Faircroft's Antiques: The Mountaineer's Legacy – Collector's Edition (Ocean Media, 21st Jul, $9.99) – When Mia Faircroft gets a new assignment to Mont Cache, she expects to find a tranquil haven in the mountains. But the town has changed since a famous resident's passing, and the townspeople will need all the help they can get! Once Mia's grandmother arrives with a surprising companion, it's up to you to work together to breathe new life into the community and preserve its legacy! Do you have what it takes? Find out in this exhilarating Hidden-Object Puzzle adventure!
Fightro (Weakfish Studio, 1st Aug, $5.99) – Fightro is 2D Arcade Fighting Game. If you are an old-school fighting game lover, this game is for you! Our character is a blonde professional fighter, his opponent is not weak, but he has to turn his opponent down! Can you beat the AI with its awesome fighting mechanics?
Defeat your enemy by making combos. Making the right move at the right time is very important, Sometimes defense is the best solution
Gale of Windoria (KEMCO, 4th Aug, $14.99) – The Tetra Quartzes, the source of all life, have become sullied, and there is a growing sense of foreboding across the world. Shan, a young boy from the citizens of the winds sets off on an adventure to purify the sullied Tetra Quartzes and save his childhood friend. With allies from different roots, slash away the dark clouds of death, and reach out to the future in a fantastic adventure. Soar on the breezes around the world in your flying Beakle, upgradable with parts to spread your accessible areas. Make use of the elementals not only in turn-based battles, but in dungeon gimmicks as well by combining character abilities. Find also the Quartzes to strengthen your party, acquire skills and techniques. Not to forget the entire world drawn with nostalgic pixel artworks!
Japanese Escape Games The Retro House (Regista, 4th Aug, $9.99) – The 6th "Japanese Escape Games" series! Game system This game is an escape-the-room game (mystery-adventure game). *Point the screen with a cursor to solve riddles, and this game goes on. Story One day as a usual day, I went in a wood to get strawberries as always. For a while later, I found myself in the deep wood. The sun already started sinking and it's getting dark in the woods. I was supposed to be on the way back, but I was not. I lost the way back.
Kells (Paul Drummond, 1st Aug, $5.99) – Kells is a puzzle game where you have the power to change the laws of gravity and guide your team of little green dudes to safety in each level. There are over 100 levels in the game, dozens of secrets and mysteries to uncover and over 45 Kells in total to collect as you explore the world map on your journey to The Last Level. Completing the story is just the beginning, however. Unlocking all the levels is really just a rather long tutorial in disguise designed to prepare you for the real challenge – competing in The Iron Kell! Do you have what it takes to perfect the Iron Kell and become a true Kells Champion?
KOKORO CLOVER Season 1 (Gotcha Gotcha, 4th Aug, $18.99) – KOKORO CLOVER Season 1 is part of a 2D platform series based on the theme of "a Japanese Sunday morning anime". Transformations, cards, dancing, and robots! Enjoy the exciting and wonder-filled world! Story One day, "Treffy the Spirit User" suddenly gains possession of the "KOKORO CLOVER" and must go on a great adventure with friends in order to find out a great secret! Silly rivals and formidable enemies abound in the fight for the "Kokoro Clover". Season 1 contains 12 episodes!
Lost in Play (HappyJuice Games, 10th Aug, $19.99) – Go on a feel-good adventure with a brother and sister as they explore dreamscapes and befriend magical creatures. Lost in their imagination, Toto and Gal must stick together and solve puzzles to journey back home. This whimsical puzzle adventure game will make you feel like you're playing a cartoon! Lost in Play is a journey through childhood imagination with thoughtfully crafted puzzles and colorful characters. Play as a brother and sister duo on an adventure to find their way back home. Between reality and fantasy, the siblings explore the enchanted forest of a horned beast, start a rebellion in a goblin village, and help a team of frogs free a sword from a stone.
Merge Your Room (Prison Games, 29th Jul, $9.99) – After a day of fun and games with friends and family, it's time to clean it all up! Find pairs of items scattered around the apartment and merge them, putting them in their places. Every day there are more toys, so finding them becomes even more difficult! Will you manage to collect more of them than your friends?
My Dangerous Life (Giiku Games, 5th Aug, $12.99) – New York is a big city. Hinata comes to New York as an international student, but not only is he not registered at the university, but he is also being chased by the police as an illegal immigrant. He moves into a shared house run by Allen, but the people he ends up sharing a room with are all men with one or two quirks… Hinata falls in love and is torn between love and intrigue. In the end, will she choose love or–?
Princess.Loot.Pixel.Again x2 (Big Way, 1st Aug, $3.99) – Please welcome the sequel to everyone's (well, at least someone's) favorite game Princess.Loot.Pixel.Again! Lots of fun with no hint at being serious, randomly generated adventures. x2 means heaps more artifacts, objects, locations, enemies, bosses, secrets and booby traps! The game retains the original graphic style called "pixel comic" (at least, that's what the devs say anyway). PLPA x2 is full of amusing and bizarre events, easter eggs and references to other games and movies. You think you've seen it somewhere before? Then you must be right!
Quarry Truck Simulator (BoomHits, 29th Jul, $7.99) – You think you know everything there is to know about driving? Quarry Truck Simulator will make you think again, as it puts you into shoes of a mine worker. You will drive the biggest, most demanding vehicles known to men. They're heavy, they're powerful, they can hold their own in the most uninviting terrain!
QUByte Classics: Thunderbolt Collection by PIKO (QUByte Interactive, 4th Aug, $7.99) – Your goal is simple: destroy all the enemies that will come until you reach the final boss of the stage, make it easier and faster as you collect items and power-ups to enhance your health bar, increase your speed and upgrade or acquire new weapons. You'll lead humanity to survival. Thunderbolt Collection is a compilation of two vertically-scrolling shoot 'em ups from the series Thunderbolt released in 1995 exclusive on east.
Roll The Cat (Ratalaika Games, 5th Aug, $4.99) – Did you ever wake up in the middle of the night because you hear a cat meowing? Roll The Cat is a game about that! On each level, you have to roll the cats back into their bed. Only then you will convince them to sleep. Use your spatial logic and try to put the cats back to bed. A simple relaxing game for puzzle lovers!
Samurai Aces III: Sengoku Cannon for Nintendo Switch (City Connection, 27th Jul, $9.99) – Fire the exciting cannon shot! The Japanese-style shooter with quirky aesthetics is back for a third go! Samurai Aces III: Sengoku Cannon is a horizontal-scrolling shooter game that first appeared in arcades in 2005. One unique feature of this game is how the score multiplier goes up when you take down an enemy using the powerful cannon shot. Beat your own high score!
Sofiya and the Ancient Clan (eastasiasoft, 5th Aug, $7.99) – Sofiya and the Ancient Clan is a traditional side-scrolling action platformer presented in vibrant pixel art style with fluid animations. Run, jump and cast spells as you traverse hills and forests, caverns, castle walls, graveyards and more. Use your magic to trigger secret switches, make new platforms appear, incapacitate guards or take down vicious ogres, ghosts and a wide variety of other enemy types. Face off against monstrous bosses at the end of each region you clear, and victory will be rewarded with saucy unlockable images to fill your gallery
STRIKERS 1945 III for Nintendo Switch (City Connection, 27th Jul, $9.99) – This hardcore shooter was Psikyo's challenge to the world! STRIKERS 1945 III is a vertical-scrolling shooter game that first appeared in arcades in 1999. This game is the culmination of the best parts of the STRIKERS series and comes with new features as well. Players earn technical bonuses by destroying a boss's core at a very close distance. They can also earn chain bonuses by collecting flashing medals in succession. Time to work on drawing up tactics for a better score!
Supaplex THINK! (Danila Gorozhanin, 31st Jul, $9.99) – This game is for prepared players of the SUPAPLEX world with many new adventures! A new level of sophistication and enthusiasm! Although SUPAPLEX THINK! contains many levels that require good reaction, in general, it is more focused on planning and thinking through action. Therefore, we say: THINK! AND IF YOU NEED TO – RUN!
Super Snake Block (Isaias Game Dev, 1st Aug, $5.00) – Simple and addictive gameplay. Increase the snake's size by collecting body parts along the way. Use the snake's body to destroy boxes and score as many points as you can. Worlds: Forest, Desert, Graveyard and Snow. Collect coins and use them to unlock new levels and snake skins. Power of invincibility: but be careful with scenery objects. Grab the Imam and attract nearby coins to you. 18 snake skins to unlock. Play with Mr Maker Level Editor. Easy Achievements.
Two Point Campus + Bonus Content (SEGA, 9th Aug, $39.99) – Build your university, your way! It's time to spin academia on its head! Got a yearning for learning? Or just keen to build an educational masterpiece? Campus is jam-packed with new creative tools to help you build the university of your dreams. For the first time, build in the great outdoors as you develop your own delightfully educational campus environment, housing the top teaching facilities in the land. Whether you prefer building on simple foundations, or placing every tree, you can build the university you want. Lay down pathways with new easy-to-use tools. Plant glorious collections of outdoor flora. Place benches, fountains, sculptures, hedgerows – even picket fences. The only limit is your imagination (and your in-game bank balance). But, of course, it wouldn't be a Two Point game without a twist
Viki Spotter: Megapolis (Ultimate Games, 1st Aug, $4.99) – Viki Spotter is truly an infatigable girl. She has already seen many interesting things the world has to offer: a farm full of cows, meow cats and haystacks and the mysterious depths of the sea where colorful fish, corals and flashing silhouettes of submarines awaited her. This time things will get more prosaic, but no less exciting! You will have to visit an enormous city, where it's inhabitants wearing colorful shirts, cyclists on their swift bikes, friendly animals living on the streets and much more are waiting to be discovered. So many things can be found in the colossal metropolis! Help Viki spot all the differences in the pairs of pictures provided. You, her loyal and trustworthy friend, are her last hope!
Viki Spotter: Professions (Ultimate Games, 25th Jul, $4.99) – In this game you have to go on a journey into the adult world. Together with the brave girl Viki you will learn about what adults do at work. You will see a lot of pictures, but some of them are wrong and you have to find all differences. If any task will be too difficult for you – there is an excellent assistant in the person of the little girl Viki who will always find what is hidden from your eye!
Wavecade (Spalato Bros, 1st Aug, $10.00) – Inspired by classic arcade shooters, Wavecade brings back the original nostalgia feeling to players from arcades, using sleek retro 80's and sci-fi aesthetic.Bend time at your will by moving up and down the screen. After each wave, the game speeds up a small amount. making the game more challenging on each new wave. You can accumulate multiple powerups at the same time. Collecting the same powerup upgrades it and increases your time with them active. You can accumulate multiple powerups at the same time. Collecting the same powerup upgrades it and increases your time with them active.
Whack first! – Fight the moles (Cooking & Publishing, 28th Jul, $3.99) – Save the farm from the mole invasion! In Whack First! – Fight the moles your goal will be to eliminate as many as possible of those moles that are trying to wipe out your crop, but you will have to be careful, because if you fall into their trap you will hit the robotic moles and your score will go down. Hit the bombs with your mallet and they will help you eliminate more moles! Will you be the one to get the highest score? Challenge your friends or family to this fun game of mole bashing.
So that's your lot for this week's North American Nintendo Download. Go on, be a sport and drop a vote in the poll above, and comment below with your hot picks!