Sports
Natalya reacts after the hell of a match with Cora Jade
WWE Superstar Natalya reacted to NXT 2.0 star Cora Jade after a hell of a match last night
WWE NXT 2.0 star Cora Jade and Natalya were involved in one of the best NXT 2.0 matches, especially for Jade. 
Jade put on a great fight against Natalya. She went neck to neck with The Guinness Book of World Record holder and didn't give up till the End. There were many submissions held by both parties and close kick-outs.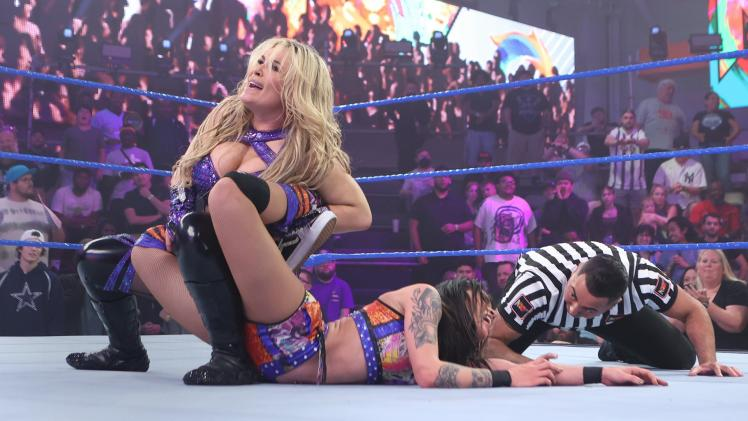 It was a heavily intense bout which was heavily impressed by Jade. The End of the match saw Jade Passing out to Natalya's sharpshooter after various attempts to get to the rope but didn't tap a bit. This certainly got the veteran's approval as she hugged her.
After the match, Jade took to Twitter and mentioned that she never tapped. She is grateful for the challenge that Natalya gave. This tweet was like a response to all her doubters.
"I never tapped. @NatbyNature is a legend and future hall of famer. She brought out a different side of me & I'm forever grateful for the challenge. As for the rest of the @WWENXT women's division, you can stop doubting me now. #WWENXT is living in the Generation of Jade."
Former Divas Champion quickly responded to it and said that being underestimated can be one of the most significant advantages. She mentioned how Jade went from being a fan to being a competitor who realised her desires with hard work and passion. 
"Being underestimated can often be our greatest advantage. You went from being a fan in the crowd, a little girl with big dreams, to realizing you can have everything your heart desires with hard work, grit and passion. Tonight you earned my respect. #wwenxt"
Cora Jade earns Natalya's approval during the main event match.
WWE NXT 2.0's main event saw a Superstar and one of her biggest fans taking on each other. Natalya and Jade started off evenly, with both not letting any margin of error. However, Jade came on strong with two forearms and hit a hurricanrana. 
Natalya came back strongly with a clothesline and lifted her up for submission; however, she got away from it and hit her with a few punches. She then hit a Tornado DDT and went for the cover, but Natalya was kicked out. The veteran hit a massive clothesline to Jade. 
She hit a mean suplex which crushed Jade against the turnbuckle and ropes. Then, the Queen of Harts used some experience and targeted Jade's leg. She hurt her knee, folded Jade's leg over her knee, and damaged it more. However, Jade invaded from it and hit a big kick to the face, but it was an immediate kick out by Natalya.
Both went for their respective sharpshooter one by one on each other and got powered out. Jade went up top, but she was caught by Natalya and put in the sharpshooter. Jade crawled towards the rope, but she dragged her again and again, and after a while, Cora passed out, which gave Natalya the win, but she didn't tap out to Natalya. She then helped Jade get up and hug her, which seemed like Cora winning the approval of The Guinness Book World record holder.
More WWE news
Follow our dedicated WWE page for instant WWE news and updates.