Sports
LaMelo Ball 2023 – Net Worth, Salary, Records, and Endorsements
LaMelo Ball is an American basketball player and here is more about his net worth, salary, records, and endorsements
LaMelo Ball is part of the famous Ball family, which has produced some of the best basketball players seen in the NBA. This comes in the aftermath of his elder brother, Lonzo Ball who currently plays for Chicago Bulls and AnGelo Ball.
Ball had a stellar start to his NBA career but now looks to make a mark with some of the big names in the game. He scored 92 points in a game in February 2017 for his school Chino Hills in a match against Los Osos. This was an all-time second best record performance by any player in the history of California High School Basketball championship. 
LaMelo Ball Facts
| | |
| --- | --- |
| Birth Place | Chino Hills, California, United States |
| Father's Name | LaVar Ball |
| Mother's Name | Tina Ball |
| Star Sign | Leo |
| College | Illawarra |
| Net Worth (2023) | $12-16 Million |
| Salary (2023) | $8.9 million |
| Age | 20 |
| Date of Birth | August 22, 2001 |
| Height (ft) | 6'6″ (1.98m) |
| Weight (kg) | 82kg |
| Nationality | American |
| NBA Draft Year | 2020 |
| NBA Draft Pick | Round 1/ Pick: 3rd overall |
| Playing Career | 2020- |
| Position | Point Guard |
| Teams | Charlotte Hornets |
| Achievements | 1x Rookie of the Year |
| Wife/Girlfriend | Ashlyn Castro |
| Children | N/A |
| Endorsements | PUMA, Big Baller Brand |
Ball missed out on half of his rookie season, due to a wrist injury that kept him out for several months. This time around, he looks refreshed and ready to help the Hornets reach the NBA Playoffs.
LaMelo Ball Net Worth and Salary
Ball was added to the Puma roster during the 2018 NBA Draft. The company includes Deandre Ayton, Kyle Kuzma, and The 20-year old has a four-year contract with the Hornets of $35 million. The younger Ball brother recently signed a $100 million deal with Puma, including the accessibility to a private jet.
He originally released his own sneaker, the MB1 in 2017 under his family's infamous Big Baller Brand company with his brothers.
LaMelo Ball Personal Life
LaMelo was born on Aug. 22, 2001 in Chino Hills, California. He is the son of LaVar and Tina Ball, who both played college basketball. LaMelo's brother, Lonzo is an NBA point guard for the Bulls, while his other brother, LiAngelo has played professionally.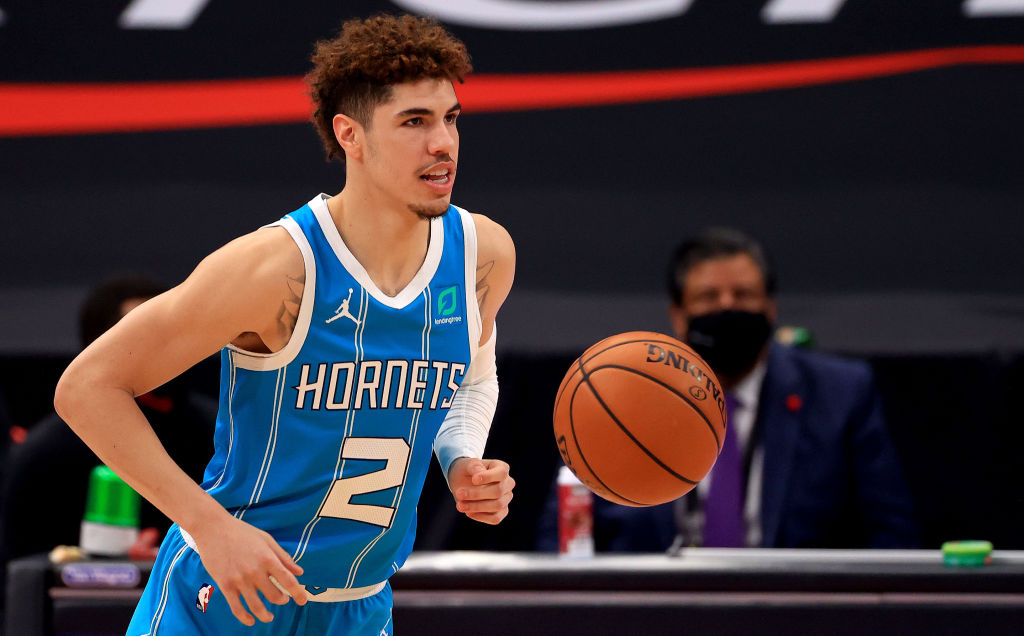 His father LaVar Ball was a professional basketball and soccer player. He played basketball for Washington State University in 1987-88 and California State University, LA. He also played soccer for London Monarchs of WLAF, Carolina Panthers, and New York Jets.
Tina Ball is an Athletic Director in a middle school in Montclair, CA. The Big Baller Brand has made huge inroads in the industry.
LaMelo Ball Endorsements
Ball is still young in his NBA career and has a long way to go. He already has deals with his family brand and Puma and looks to make a healthy income.
On the other hand, he has already racked up double digits in the millionaire column in a single year in NBA.
FAQs about LaMelo Ball
What is the age of LaMelo Ball ?
LaMelo Ball is 20 years old and was born on August 22, 2001
What is the net worth of LaMelo Ball ?
LaMelo Ball has a net worth of $12-16 million.
Where was LaMelo Ball born?
LaMelo Ball was born in Chino Hills, California
What is the height of LaMelo Ball ?
LaMelo Ball's height is 6 ft 6 in.
What is the weight of LaMelo Ball ?
LaMelo Ball's weight is 82 kg
Who is the wife of LaMelo Ball ?
LaMelo Ball is single
In which year was LaMelo Ball  drafted?
LaMelo Ball was drafted in the year 2020/ Round 1/ Pick: 3rd overall.
In what position did LaMelo Ball play?
LaMelo Ball played in the position of Point Guard
How many NBA Championship did LaMelo Ball win?
LaMelo Ball has not won any NBA Championship.
More NBA Articles:
Follow our dedicated NBA page for more NBA articles and news updates