Sports
Khabib hits back at Tony for dragging his name during an interview
Tony Ferguson and Khabib Nurmagomedov have rekindled their long-standing rivalry ahead of UFC 274
Tony Ferguson sat down with former two-division champion Daniel Cormier, ahead of UFC 274 and the name of Cormier's teammate and Tony's long-standing rival Khabib Nurmagomedov quickly popped in. Tony was at his peculiar and off-the-wall best, as he tore down Khabib alleging the Dagestani of running from him.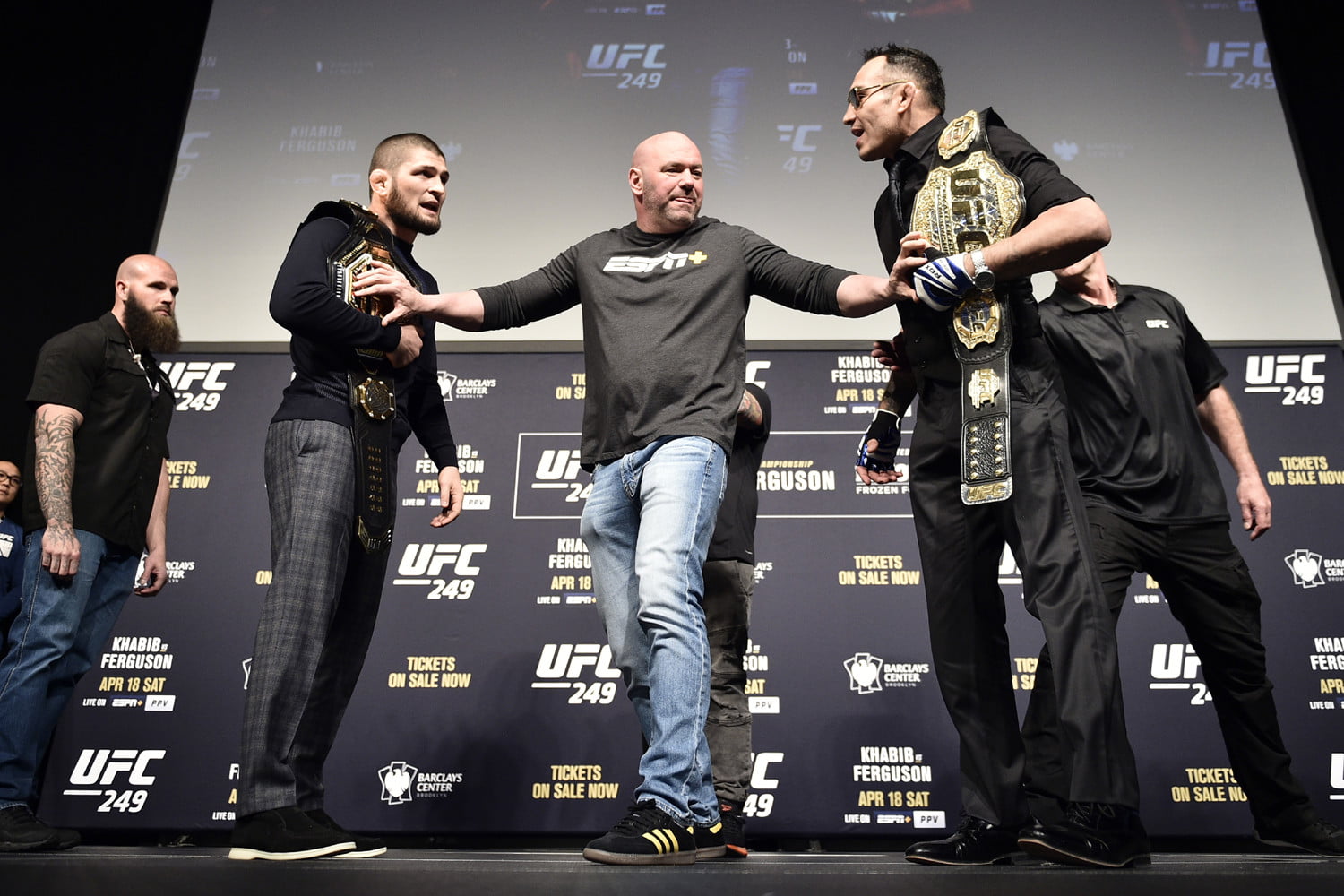 Ferguson then went on to claim that 'DC' and Joe Rogan would inadvertently talk "sh*t" about him in commentary during his upcoming fight with Michael Chandler at UFC 274. The 38-year-old even threatened to walk out of the interview at one stage but Cormier managed to convince him to complete it:
"There was enough film out there for Khabib to take a fight and the p**y's still running… It burned you, right? [My comment on Khabib]… [I spoke about Khabib] because of the retaliation tactics, to keep the part where it needed to go and I know it burned you… so watch what's gonna happen and the folks out there, what's gonna happen is Joe Rogan and Daniel Cormier are gonna talk so much sht about me when I go out there and fight."
Cormier posted a video of their interaction on Twitter, and Khabib was quick to respond. He brought back to light the fact that Tony has lost his last three fights and hasn't won a single round since his last win. He said,'
Last 3 years, Tony has not won a single round in the UFC.
leave me alone and focus on yourself stupid guy.
Tony Ferguson calls Dana White 'Drug Dealer' in anguish filled berating
The 'El Cucuy' is one of the most fearless fighters of all time, and much like his demeanor inside the octagon, Ferguson isn't afraid to take aims and digs at the UFC top brass, and speaks his mind unapologetically. During his pre-fight media scrum, he was asked about his famous tag line 'Dana White privilege', his fight against Chandler, and fighter pay.
"I don't think it's very funny," Ferguson said. "Everybody is looking at it. They're smiling and laughing, but nobody is saying sht. I'm the kid that's up here with Dana Brown privilege, I guess, or whatever you want to call it. I don't think it's very funny anymore. I don't think you guys should think that's very funny. I'm taking this weekend very fcking seriously. I'll kick this Dana White boy's ass."
"I think we're underpaid, personally, to be real," Ferguson said. "… I asked Dana to box. He said, 'Fck no.' I'm like, 'Why? I want to go play baseball. I want to go do other pro sports. I'm an athlete. I grew up playing different sports at a high level. … I want to go do all these couple things but then I have this guy right here acting like a fcking drug dealer telling me I can't go and do this sh*t. I want to go make more money for my family.
"… You make your money by showing up, winning and having good performances. Right now, we're getting paid crypto, I guess, huh? They're following everybody's suit. They're waiting for everybody to speak up. They're waiting for everything else like that."
More MMA news
Follow our dedicated MMA page for instant MMA news and updates