Sports
Kamaru Usman hits back at Showtime Sports president Stephen Espinoza
UFC P4P king Kamaru Usman clapped back at Showtime Sports President alleged UFC fighters of wanting big boxing payday but having no autonomy
The boxing vs MMA debate is escalating by the day, and Showtime Sports president Stephen Espinoza has gotten involved now. The man famously referred to as 'weasel' by Conor McGregor threw some shade at how MMA fighters are bound by their corporation.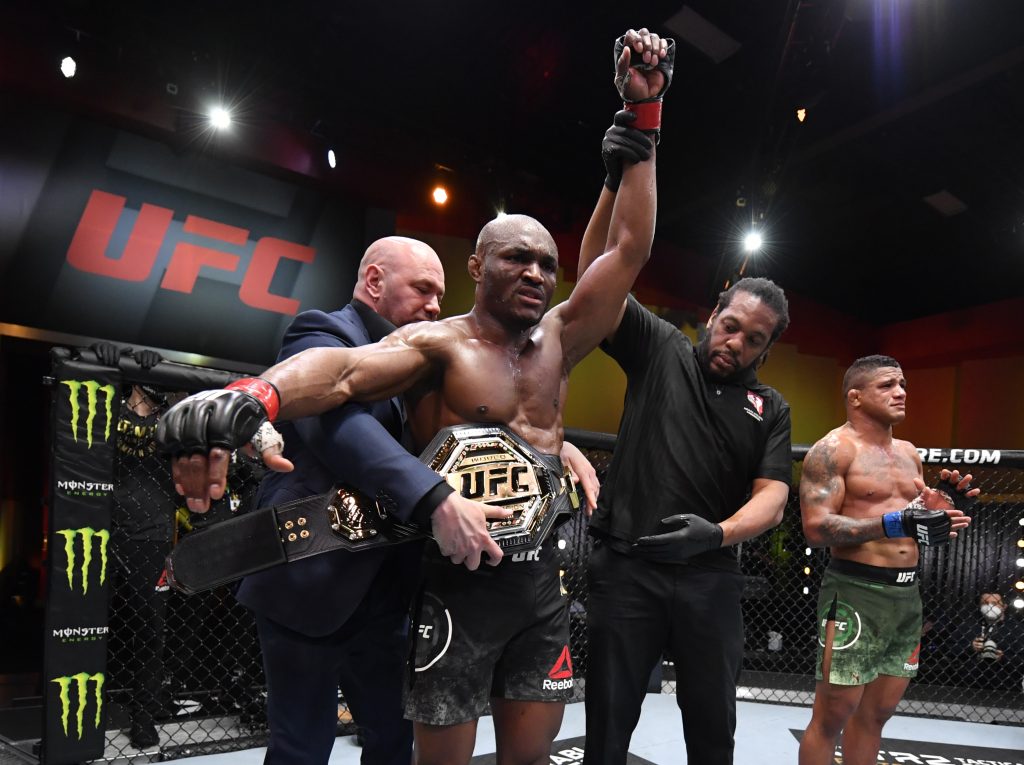 After Usman's manager Ali Abdelaziz called Canelo a coward and accused him of ducking his client, Canelo hit back with a sentence made famous by Conor McGregor. ' Who is that guy'. Tensions seemed to flare and Usman found the need to cool things down as he posted the following tweet, ' Let's just all relax… before somebody gets hurt '
Even as he attempted to cool off the situation, the Nigerian did not stoop down on an opportunity to poke fun at the Mexican. Canelo immediately replied by saying, ' I agree cuz it will not be me '
The war of words continued to escalate as both fighters started to make claims and set stakes when they eventually end up fighting. There were no signs of the situation diffusing as Usman replied by saying that he was willing to fight the boxer inside the ring or in the cage.
He said,' In the cage or the ring I'm willing find out in both… Are you? '
Usman raised the longest standing debate between MMA fighters and boxers, that although MMA fighters are willing to step up inside the ring, the latter hasn't shown any interest in doing otherwise.
Kamaru Usman hits back at Showtime Sports president Stephen Espinoza after he weighed in on the situation
Espinoza slammed Usman for disrespecting Canelo, and said that UFC fighters chase boxers for a big pay day, since they cannot negotiate or pursue new opportunities without the UFC.
"LOL. UFC fighters want that boxing paycheck but don't understand that boxers have the autonomy to choose opponents. It's not about not wanting "smoke." It's about professional self-determination, a foreign concept to those who let the kickboxing instructor choose their fights."
Usman hit back at Stephen by accusing boxing of tainting their legacy by not institutionalizing it. He even said that although boxing is a legendary sport and beautiful art, the best don't end up fighting the best because of all the corruption and obligations that hamper it.
'Boxing is a beautiful "Art" with some amazing athletes, and even a couple of good promoters. The problem is low lives like you that are around the sport that has destroyed it for everyone. Take notes from What Dana has done.'
He even said that the boxing promoters should learn a lesson or two from UFC president Dana White on how to build a company and a sport. 'Our fans know who the best is because "The best fight The best" not run & hide and fight nobody's with those plastic belts & call themselves "super champion". Keep quiet next time & if you need lessons on how to save that dying sport let me know I've got Dana on speed dial👊🏿'
More MMA news
Follow our dedicated MMA page for instant MMA news and updates