Sports
Justin Gaethje tells Charles Oliveira 'you hit hard as f***'
The UFC have released footage from the aftermath of their successful UFC 274: Charles Oliveira vs Justin Gaethje event in the 'Thrill and Agony' series
Charles Oliveira was at his peak best at UFC 274, when he dismantled Justin Gaethje, with his non-stop pressure, and outstanding groundwork.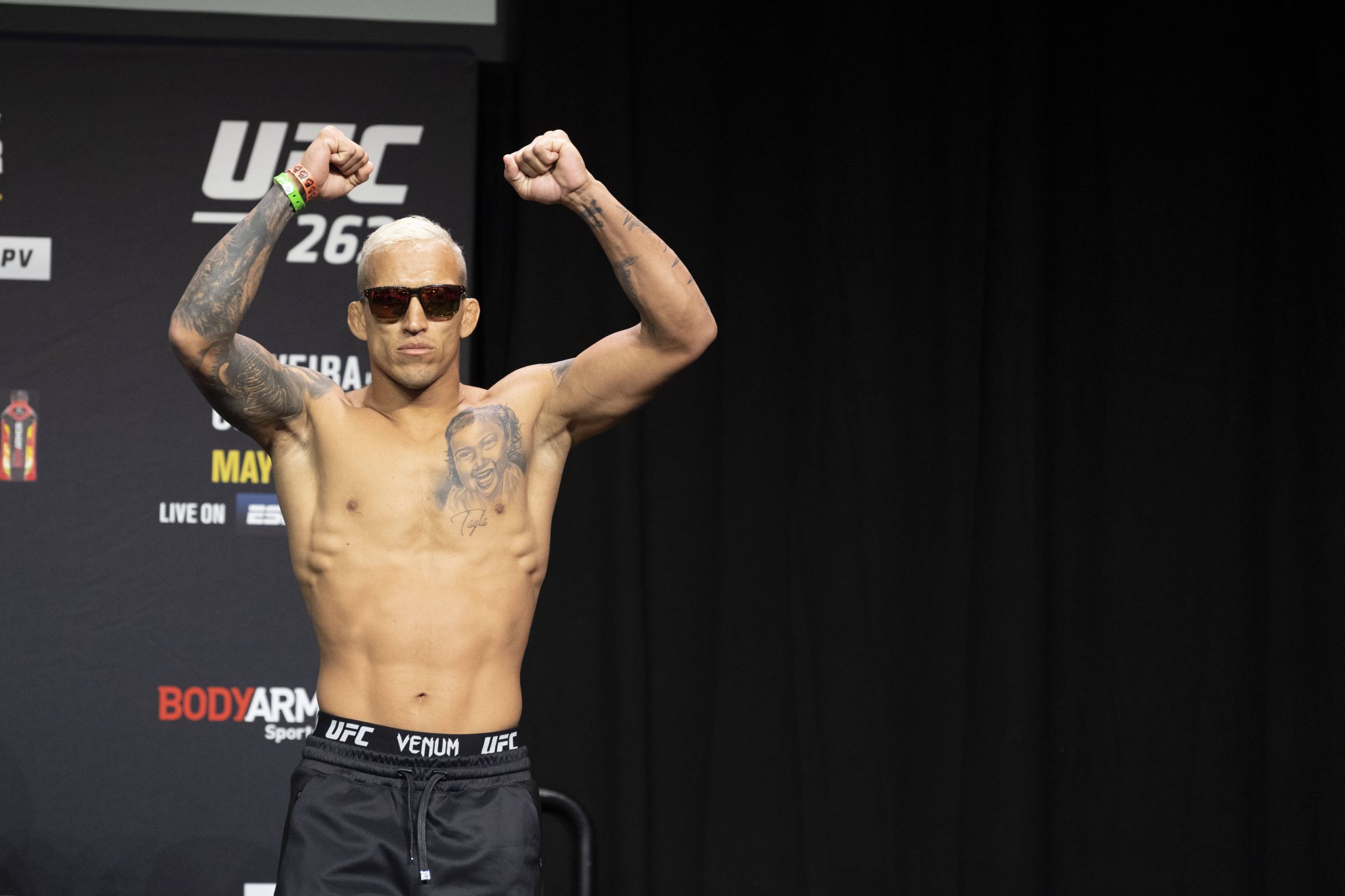 The fight was absolute fireworks, even though it did not go past the first round. In the odd three and a half minutes the fighters fought, they both got dropped twice, and it was just round the clock action you'd miss if you blinked. While Oliveira's face looks comparatively much more damaged owing to the big hook, and uppercut that Gaethje landed that dropped him, the American refused to engage in Olivera's guard for the fear of his submission game.
But when Oliveria dropped Gaethje with a straight right, he immediately took side control in half mount, went from an armbar, to a twister and finished off by taking Gaethje's back and sinking in a tight rear-naked choke. Even though he did not win the belt, he reminded the world that the championship throne has a name marked by 'Do Bronx'.
While Justin Gaethje and his head coach Trevor Whittman were visibly upset from the loss, Gaethje gave his opponent props by saying that he hits harder than he expected. Oliveira celebrated this victory with his crew, and immediately called out Conor McGregor.
'Oliveira would not submit me if we fought a 100 times' – Islam Makhachev isn't fazed by Charles Oliveira's elite submission skills
The question that has been rattling grappling die-hards for the longest time is 'Sambo vs Jiu-jitsu – which form is most efficient?' The opportunity to settle this question once and for all lies in a fight that UFC commentator Joe Rogan is pushing hard for Dana White to set up- Charles Oliveira vs Islam Makhachev.
Islam Makhachev is the dark horse of the lightweight division with a nine-fight win streak. Although he does not possess the finish rate that Charles does, he still remains dominant in his fights, and maintains composure of the highest degree, something which will come in handy if he faces the Brazilian.
UFC president Dana White was miffed that Makhachev refused to step in as a last-minute replacement to face Rafael Dos Anjos, and wants to book his originally scheduled fight against Beneil Dariush again. Oliveira on the other hand has been calling out for a fight against Conor Macgregor or Nate Diaz, completely snubbing Makhachev claiming that he hasn't fought the best in the division.
Makhachev sat down with ESPN correspondent Brett Okamoto, and discussed about his future plans, Oliveira's streak, and how he has had a hard time finding fights with guys ducking him. Okamoto brought up an interesting question asking Makhachev how many times would Charles submit him if they fought a hundred times. Makhachev replied by saying, 'Hey brother, honestly I've grappled with many black belts, very high level jiu-jitsu guys, but I can't remember the last time when somebody give me submission. I've grappled with ADCC champions, I don't wanna name them, but they know my grappling skills. And this people know Oliveira can never submit me'
More MMA news
Follow our dedicated MMA page for instant MMA news and updates