Sports
How many wins does former French driver Olivier Panis have?
French motor racer, Olivier Panis drove in F1 for more than a decade primarily for the Ligier racing team
Olivier Panis earned his first F1 drive in 1994 as a 27-year-old for the French-based Ligier team. He made his debut in Brazil, finishing eleventh. He earned a surprise second place that season at Hockenheim ahead of teammate Éric Bernard and finished 11th in the standings for the marque. He finished every race except France.
The Frenchman made his first-ever F1 entry at the 1994 Brazilian Grand Prix while his last one came at the 2004 Japanese Grand Prix. Despite a 10-season long career, Panis managed to win only one F1 race – the Monaco Grand Prix in 1996.
Until 1996, no driver had ever won the prestigious Monaco Grand Prix from lower than eighth on the grid, French team Ligier hadn't tasted the sweet taste of victory in 15 years, and Olivier Panis was still searching for his inaugural Formula 1 win. However, all these statistics were thrown out of the window on that evening, with Panis claiming in one of the most memorable and exciting F1 Grand Prix.
Olivier Panis was the flag-bearer for France in F1 after the retirement of Alain Prost
Olivier Panis was the new French hope, with Alain Prost retiring at the end of 1993. Prost had claimed a fourth world title, and the other French drivers in the field were on lower-ranked teams. Panis had a solid if not spectacular start to his F1 career, finishing his first six races with a best finish of seventh in Spain before recording his first F1 DNF at his home race in France.
In Germany, a series of retirements, where 11 cars failed to finish the first lap, gave Olivier the chance to score his first F1 points—a chance he wasn't going to miss. Several other retirements for the leading drivers left Olivier in second place at the finish behind Gerhard Berger. Despite only scoring another three points all season, France had a new hero to watch out for, one who drove a French car with a French engine.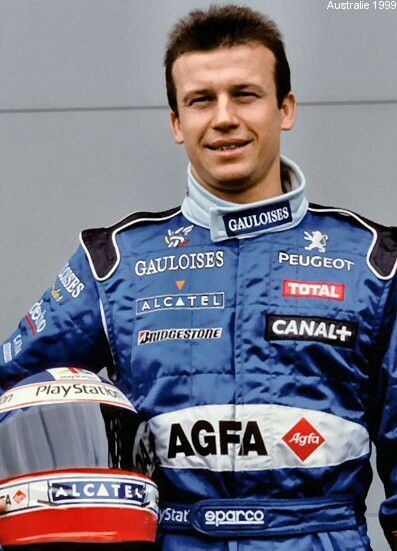 Olivier Panis remained the last French driver to win an F1 Grand Prix for more than two decades from 1996-to 2020 before Pierre Gasly won the Italian Grand Prix in 2020.
More Formula One news:
Follow our dedicated Formula One page for instant Formula One news and updates