Sports
Gilbert Burns issues a bet challenge to Ali Abdelaziz
Gilbert Burns is feeling intrepid over Charles Oliveira's chances of beating Islam Makhachev for the undisputed UFC lightweight championship
The visual of Gilbert Burns being selflessly happy for Charles Oliveira's success at UFC 274 against Justin Gaethje is winning the internet's heart. Durinho is extremely confident of Oliveira's chances of winning against Islam Makhachev in a match-up that can be labelled as a 'grappler's delight'.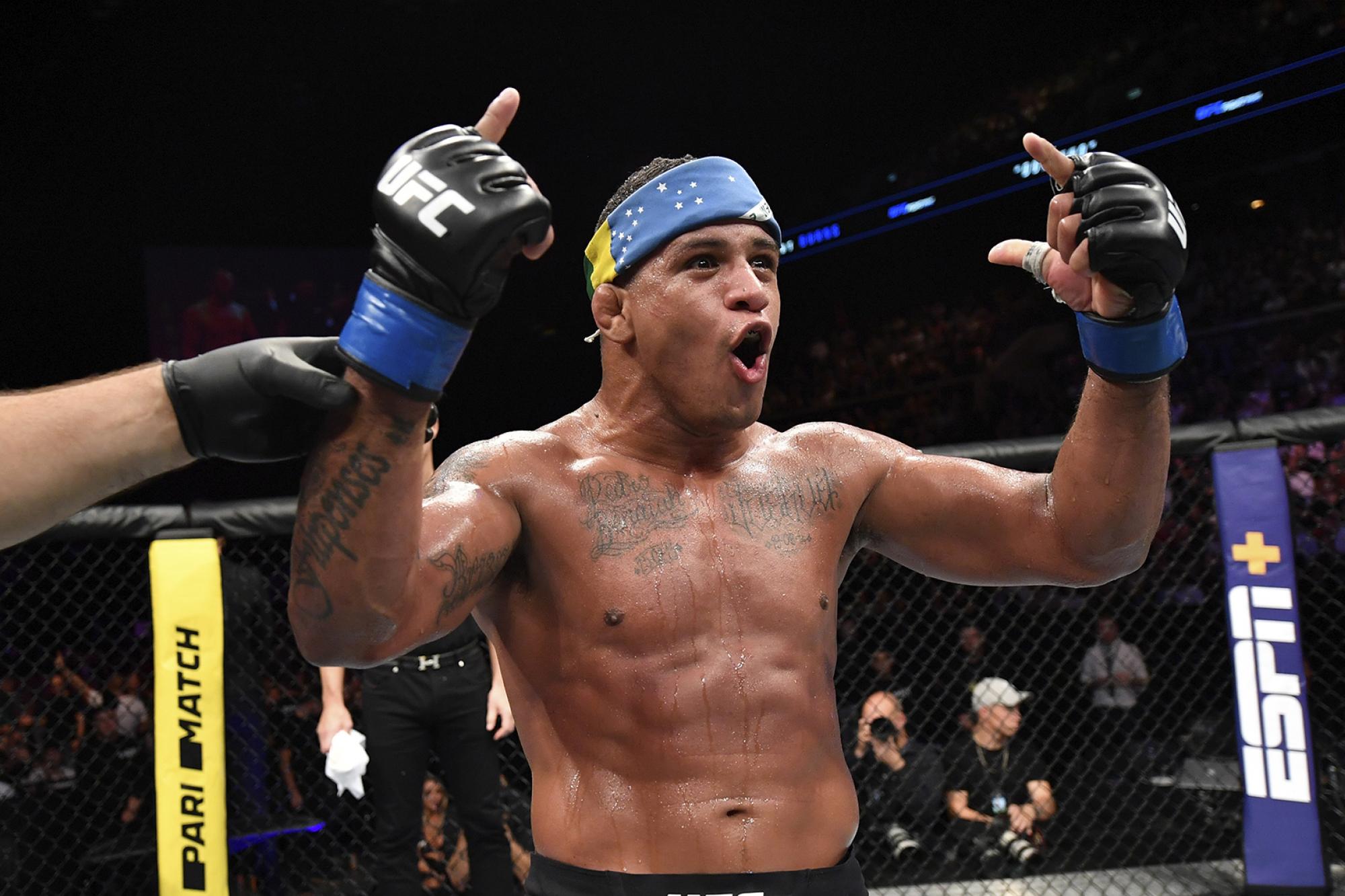 However, his manager Ali Abdelaziz is riding high on his client Makhachev's abilities, stating that 'Do Bronx' is easy work for the Dagestani. The outlandish manager who's often seen inside the cage and in the front row rooting for his fighters, has made his prediction clear even though Charles Oliveira continues to impress everyone.
"One of these guys need to fight for the title," Abdelaziz told MMA Junkie in a recent interview. "When the UFC booked them to fight for the title, I was all for it. No. 1 contender match, they come back in July, Beneil was not ready. Now they have to make a decision. Of course I'm gonna make a case for every one of them because I'm not gonna favor anybody."
"UFC doesn't even have a champion. There's no division. How you're gonna have a No. 1 contender and Charles Oliveira is the No. 1 contender?"
"I believe both will finish him. I think Islam gonna submit him. I think Beneil can submit him too. Beneil can knock him out and submit him. I think Islam definitely can submit him and dominate him. Islam can make him look like an amateur, one hundred percent. Beneil is a little bit crazy, he likes to fight. He's more gonna get maybe wild with him, catch him, put him to sleep."
He even said that Burns does not believe in his own prediction, to which the Brazilian replied on Twitter with a challenge by saying, '👀👀👀👀 @AliAbdelaziz00
How much??? #Crypto'
'He has the best chance to beat Usman'- Gilbert Burns believes that Leon Edwards can put an end to Kamaru Usman's championship run
Even though the UFC welterweight division remains the most exciting division in the UFC today, the champion Kamaru Usman sits comfortably on top having wiped out all the competition presented in front of him. Fresh young prospects are breaking their way into the top, while Usman has been sidelined for some time due to a hand injury.
It was confirmed by UFC President Dana White during UFC London that Leon Edwards is next for the title shot, and it's just a matter of time before the dates are finalized when Usman returns.
Kamaru Usman had a successful surgery and has been working towards returning to full action as soon as possible. While some believe that there is hardly any threat that Leon poses, others have sort of acknowledged his well-rounded game. Edwards is also a tall southpaw who switches stances effortlessly, something that will come in handy when facing Usman.
Brazilian welterweight fighter Gilbert Burns who has previously faced Usman, weighed in on the idea of this fight saying that Edwards has the best chance at beating Usman.
"I'm telling you right now, Leon Edwards is very underrated," Burns told Food Truck Diaries (h/t MMA Junkie). "That guy is very good. Just think about it: a striker, long and a southpaw. That's already tough, and that guy has a great team.
"I know Kamaru pretty well, but that fight is gonna be close," he continued. "That fight is gonna be close, and I think if you got these three guys, me in my opinion, Colby [Covington], Khamzat [Chimaev], and Leon, Leon has the best chance to beat Usman."
"Very long. These other guys are wrestlers. They can strike, don't get me wrong. Both guys (Covington, and Chimaev) can strike, but they are wrestlers. That guy (Edwards) is a striker.
"I think out of these three guys, Leon has more chance to beat Kamaru, and I think that fight is gonna be close," he concluded. "Kamaru is very smart. He's been there a couple of times. I think he's gonna take the fight very serious, but if he doesn't, it's a mistake. It's a rematch, now fighting for the title. That guy's been waiting for the opportunity."
More MMA news
Follow our dedicated MMA page for instant MMA news and updates