Sports
Charles Oliveira 2023 – Net Worth, Salary, Records and Endorsements
Charles Oliveira is the lightweight champion in the UFC from Brazil, and here is all about his net worth, salary, MMA record, endorsements and more
Charles Oliveira Facts
| | |
| --- | --- |
| Birth Place | Sao Paulo, Brazil |
| Father's Name | N/A |
| Mother's Name | Ozana Oliveira |
| Star Sign | Libra |
| Net Worth (2023) | $2.5 million (Approx) |
| Last Fight Earnings | $492,000 |
| Age | 32 |
| Date of Birth | October 17, 1989 |
| Education | N/A |
| Nationality | Brazilian |
| MMA Debut | March 15, 2008 |
| MMA Record | 32-8 |
| Divisions | Welterweight (2008), Lightweight (2008-12, 2017-present), Featherweight (2012-16) |
| Achievements | Most Submission wins in UFC history, Predator FC Welterweight Grand Prix Champion, UFC Lightweight Champion (x1) |
| Wife | Talita Roberta Pereira (m. 2014) |
| Children | Tayla Oliveira (born 2017) |
| Endorsements | N/A |
| Social Media | Instagram, Twitter |
Charles Oliveira popularly known as 'Do Bronx' was born on the 17th of October in 1989. Having suffered from bone rheumatism at a very young age, his sporting career looked to be in dire straits. He had initially wanted to become a footballer.
Through grit, determination and the support of his family, he overcame the ailment and is now one of the best lightweights in the world.
He made his MMA debut in March 2008, and quickly rose through the ranks to grab the UFC's attention. He has been a part of the UFC since 2010.
Charles Oliveira MMA and UFC Record
Oliveira made his MMA debut in March 2008 at Predator FC Welterweight Grand Prix, and on the same day he won the tournament winning three fights in a row. There was no looking back from there.
After going 12-0 up in his MMA career, Oliveira was roped in by the UFC in 2010. He capped off his debut with a stunning submission win over Darren Elkins in August 2010. He was then pegged back with back-to-back losses against Jim Miller and Donald Cerrone.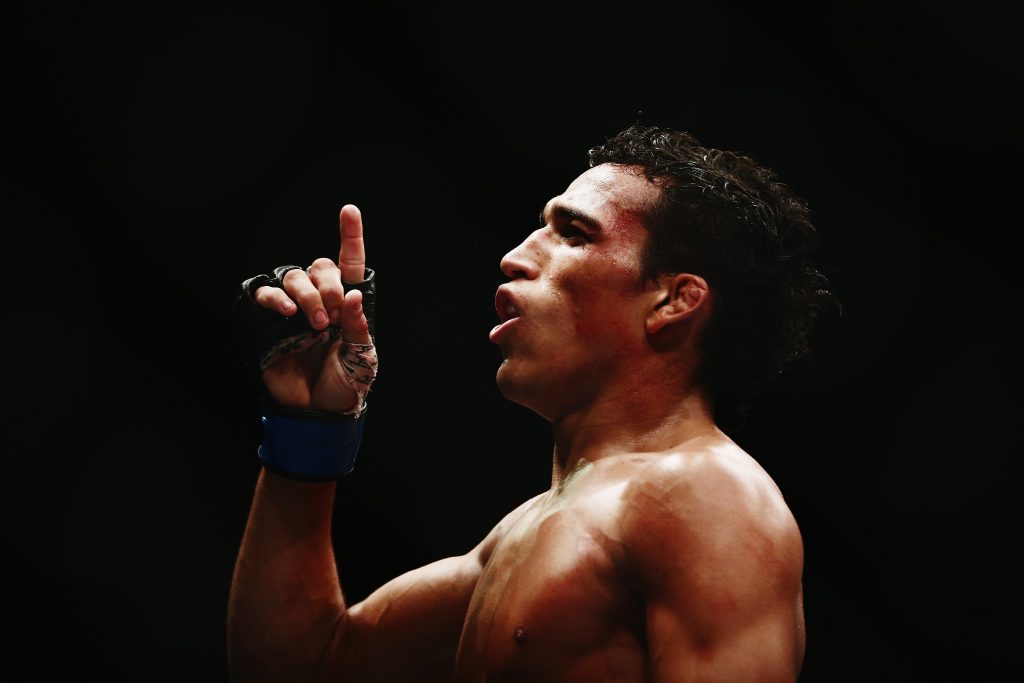 In 2012, Oliveira moved to the featherweight division and earned decent success there as well, before a poor run of form during 2015 and 2016 led him to get back to the LW division.
And since returning to the lightweight division in 2017, Oliveira just has one loss, against Paul Felder in the same year. He is now on an incredible streak of 9 wins, which has eventually led him to a title.
Oliveira's MMA record stands at 32-8.
Charles Oliveira Net Worth and Payouts
Oliveira has a net worth of around $2.5 million, largely attributed to his long fighting career. He earned a staggering $250,000 for his win over Tony Ferguson at UFC 256.
He had also earned a stunning $307,200 for his submission victory over Kevin Lee at UFC Fight Night 170, last year.
His biggest payday came against Dustin Poirier at UFC 269 in December 2021. For his submission over 'The Diamond', Oliveira earned an incredible $492,000.
Charles Oliveira Wife, Family and Endorsements
Charles Oliveira is married to Talita Roberta Pereira. The pair married in the year 2014, and they have a daughter named Tayla Oliveira born in 2017.
Not much is known about, Oliveira's father. His mother is Ozana Oliveira. She is known to have looked after Oliveira during his tough times with bone rheumatism at the tender age of 7.
Oliveira is also into harness racing, and has taken part in a few national level competitions in the sport.
Besides this, he owns a training facility predominantly focusing on Brazilian Jiu-Jitsu, in Guaruja. It is called the Centro de Treinamento Charles Oliveira Gold Team.
More UFC news
Follow our dedicated UFC page for instant UFC news and updates