Sports
Can Tony Ferguson beat Khabib Nurmagomedov?
Leading up to UFC 274, and during a recent interview with Ariel Helwani, Tony Ferguson revealed that he's not done with longtime rival Khabib Nurmagomedov and has unfinished business with the Dagestani
Seems like Tony Ferguson is still latched on to the past, and has never let go of the idea of a prospective fight with Khabib Nurmagomedov. During a recent interview with Ariel Helwani on The MMA Hour, Tony proposed the idea of an Ultimate Fighter season with arch-nemesis Khabib Nurmagomedov, stating that his late father Abdulmanap always wanted to see a fight between the two.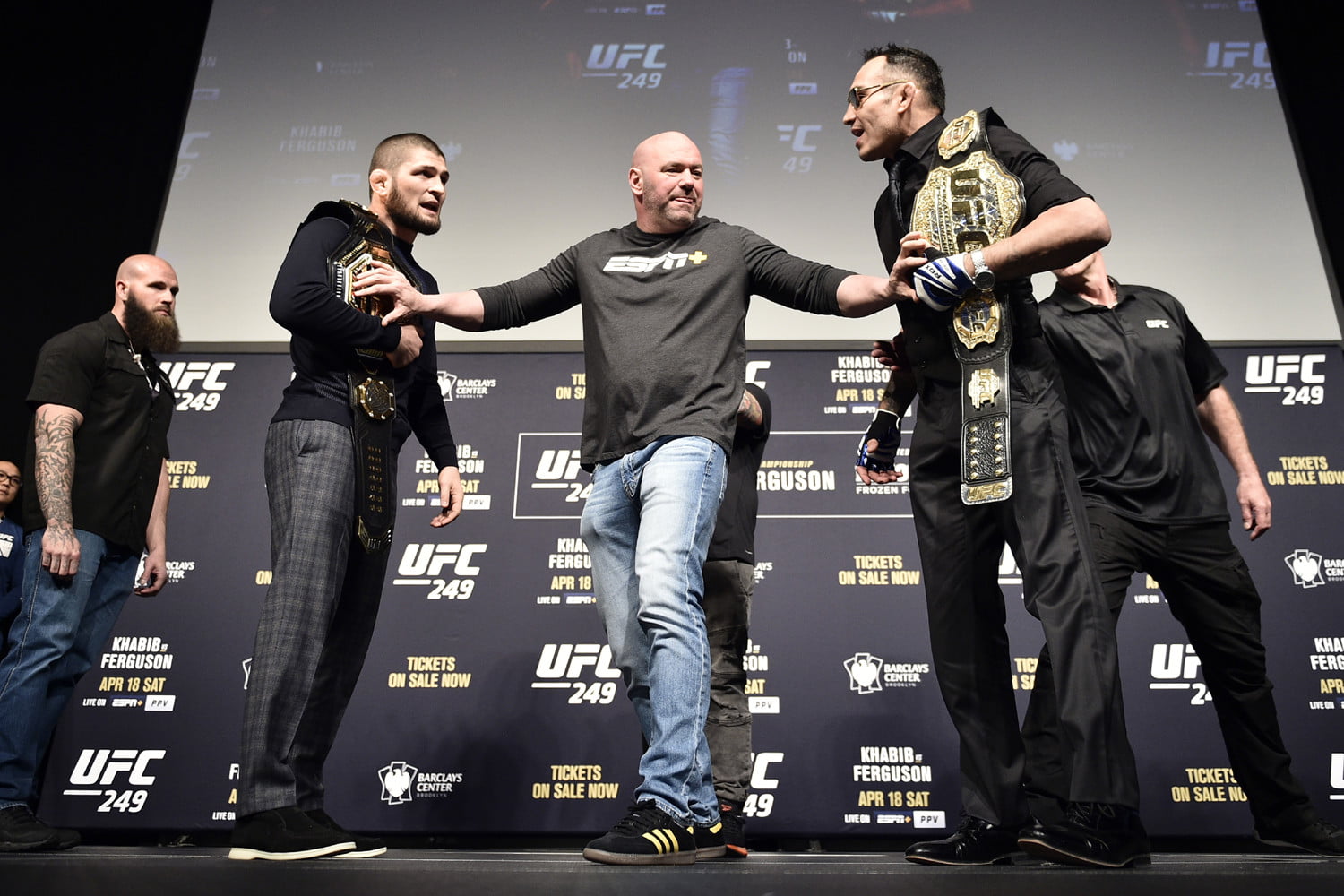 UFC 274 featured a crowd-favorite fight between Tony Ferguson and Michael Chandler, that had all the right ingredients for an absolute barn burner. And the fight delivered in every possible sense.
Tony Ferguson hadn't won a single round in his last three fights, but looked like he didn't miss a beat in the first round. The first round felt like a flashback to the times when Tony would dismantle and systematically break down his opponents. While fans were reminiscing while watching Tony outstrike Chandler, the 'El Cucuy' dropped Chandler with a stinging left hook that dropped Chandler, and also blurred his vision momentarily.
The second round began with Chandler coming in hot, guns blazing, and landed one of the greatest front kick knockouts that stifled Ferguson, and stunned the entire arena. Chandler observed that Tony had his hands to the side, which opened up hooks for him. In making this read, Chandler planted a perfectly timed front leg kick that knocked Tony off senses, out cold.
While Ferguson is way past his prime, he was once one of the most feared lightweight on the planet and raked up one of the best streaks in the division. But the idea of the fight between the two iconic duo still excites fans, in what is by far the most cursed fight ever.
What are the chances that Tony Ferguson beats Khabib Nurmagomedov?
Khabib's infamous t-shirt at an old weigh-in show that read, 'If sambo was easy it would be called jiu-jitsu' serves as the perfect narrative for the storyline, if the pair ever ended up facing each other. Besides this simple narrative, the pair have enough history behind the. Khabib is a world sambo champion and a longtime practitioner of the martial arts form. One thing missing from Khabib's arsenal during his initial fights in the UFC was his submission game, which he obviously improved substantially over the end of his career.
Khabib's mentality is what separated him from the rest. The reason behind his phlegmatic comportment was his self-possessed, poised and cool-headed approach. He was determined in his mind that he is the best, and would walk down opponents with confidence. The famed Khabib pressure has broken the grit of the very best in the division, and as soon as he got a grip of them, the fight started to slip away.
His ground and pound was second to none, and if that wasn't enough, he was a true master of weight distribution, posture and control. He would use every part of his body to maintain top control and tie up his opponent's limbs masterfully. Take the Edson Barboza fight for example, Khabib walked him down, showing absolutely no respect to his striking, and when he took him down, he had his legs tied up, hips postured up that sat Edson down, allowing him no space to pull guard. He controlled Edson's waist and lead hand on ground with his weaker left hand, while he beat the pulp out of him for fifteen minutes.
The reason why people fancied the Khabib vs Tony match-up was that the Dagestani never faced an elite jiu-jitsu practitioner. And Tony Ferguson is elite. A tenth planet jiu-jitsu black belt, Tony was known for his D'arce chokes from tight angles. Tony would smother his opponents on the feet, battering them with elbows, and putting them in the most uncomfortable spots. He would walk forward like a zombie, take your best shot, and come back to hit harder when the energy tank is drained.
Take the Kevin Lee fight for example. Tony was in a world of trouble early in the fight, but even when he was held in the bottom later on, he sliced Lee with his sharp elbows, and slowly gained back momentum. At the end of the second round Tony realized that Lee is beyond done, and famously stared down into Lee's soul and reminded him that this is his mat. He won the fight by a triangle choke in that round.
So how would the fight between the two end up? Even though Tony remains Khabib's biggest rival even though they never faced each other, it is safe to say that Khabib would've comfortably won if they faced each other. Beneil Dariush is a criminally underrated fighter, but nowhere close to Khabib's supremacy. What he managed to do with Ferguson would've been far more easier for Khabib, one of the most elite grapplers the MMA world has seen. To Tony's credit, he was scheduled to face Khabib during his prime, and would have possibly made Khabib bleed his own blood inside the octagon for the first time.
More MMA news
Follow our dedicated MMA page for instant MMA news and updates