Sports
Blackhowicz vs Rakic winners, bonuses who all got the $50,000 bonus?
UFC Vegas 54: Blachowicz vs Rakic – Take a look at the results and also the ones who received the bonus
This weekend's UFC Fight Night featured a light heavyweight clash between top-ranked fighters Jan Blachowicz and Aleksandar Rakic. The number one ranked light heavyweight fighter in the world, Jan Blachowicz was last seen in the octagon against Glover Texeira at UFC 277, when he lost his belt via submission. Famed for his legendary Polish power, Jan was on a brilliant five-fight win streak before succumbing to the loss against Glover. The card absolutely delivered, with some fantastic performances, capped off by an extreme showcase of high-level fighting in the main event.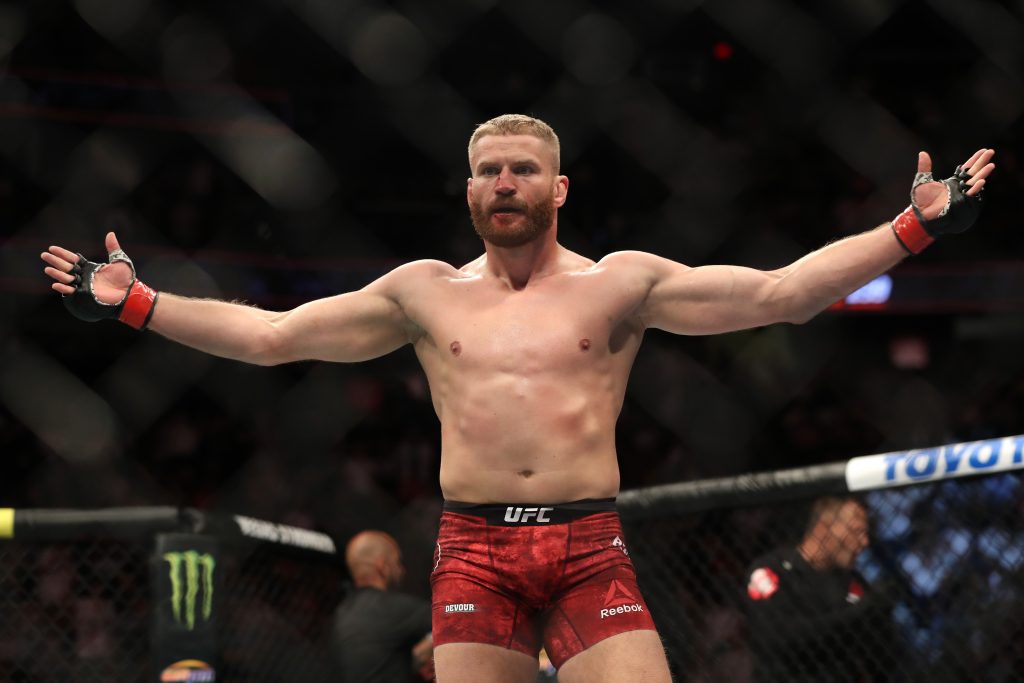 It was a cracker of a main event at UFC Vegas 54, as Jan Blachowicz came back to winning ways with a TKO victory over Aleksandar Rakic. The fight began with both fighters grabbing the centre of the octagon almost immediately and peppering each other with low leg kicks. While Jan was doing a better job at checking the kicks, Rakic got pretty swollen up early on the lead leg. However, the Austrian fighter had tremendous success with his straight right jab, that even split open a cut under the eye of Jan, which constantly bothered him. Jan's signature left to the body, and right overhand up top was landing all night, as he continued chopping down the front leg in an attempt to slow down Rakic's jabs and deracinate his base.
The second round continued at the same pace, up until Rakic decided to initiate grappling exchanges. He started out with a single leg attempt, to a high crotch, and eventually took down Jan by sweeping his foot underneath him. However, Rakic landed into the guard of Jan, which set up a triangle attempt for the Polish star. Rakic maintained his composure as he got out of the submission trap and established full mount. He stayed there for the remainder of the round, even tying up Jan's legs with a foot triangle and landing uppercuts from the ground. He won the round comfortably.
The third round began with Jan coming out stronger and faster with his strikes, and landing the leg kick with more purpose. During one of these exchanges, Rakic blew out his right knee pretty bad and fell straight to the ground. Jan being the great sportsman that he is, did not follow up with any strikes as the referee called an end to the fight.
In the co-main event, Spann began the action with quick right hands, and both fighters tried to take a page out of Michael Chandler's book and tried to land high kicks. During one such solid right hand from Cutelaba threw him to the mat. He progressed to a mount, then half guard a minute in. Spann regained his full guard, and got to his feet, but was dragged back down again. Spann kicks him off again, and gets tripped into guard again two minutes in. Spann kicks him away, gets to his feet, and wraps up a palm-to-palm guillotine as Cutelaba slips which forces a frantic tap.
UFC Vegas 54 Main Card results and winners
Main Event – Light Heavyweight: Jan Blachowicz defeated Aleksandar Rakic via TKO, Round 3 – 1:11
Co-Main Event – Light Heavyweight: Ryan Spann defeated Ion Cutelaba via submission (guillotine), Round 1 – 2:22
Bantamweight: Davey Grant defeated Louis Smolka via KO, Round 3 – 0:49
Women's Flyweight: Katlyn Chookagian defeated Amanda Ribas via split decision (28-29, 29-28, 29-28)
Lightweight: Manuel Torres defeated Frank Camacho via TKO, Round 1 – 3:27
Flyweight: Allan Nascimento defeated Jake Hadley via unanimous decision (30-27 x3)
UFC Vegas 54 Preliminary Card results and winners
Women's Flyweight: Viviane Araújo defeated Andrea Lee via unanimous decision (29-28, 29-27, 29-27)
Lightweight: Michael Johnson defeated Alan Patrick via KO, Round 2 – 3:22
Women's Strawweight: Virna Jandiroba defeated Angela Hill via unanimous decision (30-27 x3)
Flyweight: Tatsuro Taira defeated Carlos Candelario via unanimous decision (30-26, 30-27, 30-27)
Middleweight: Andre Petroski defeated Nick Maximov via submission (anaconda choke), Round 1 – 1:16
UFC Vegas 54 Bonuses
These are the fighters who cashed in the extra $50,000 bonus for their brilliant performances at UFC Vegas 54.
Fight of the Night: Katlyn Chookagian vs. Amanda Ribas
Performance of the Night: Ryan Spann
Performance of the Night: Manuel Torres
More MMA news
Follow our dedicated MMA page for instant MMA news and updates