Sports
Austin Theory talks about customizing his United States Championship
Austin Theory opens up about customizing his United States Championship on Monday Night Raw 
Many former WWE wrestlers have designed their own championship titles throughout the years, whether John Cena or The Rock. However, the most famous US Title came from John Cena, who put his signature spin on the belt. 
Current US Champion Austin Theory looks to do the same as well. While speaking on 95KGGO, Theory said that he wants to incorporate a Camera on the title if possible and has some great plans for how he will do if he does go on to customize his title.   
You can't give out all the clues or spoil all the surprises. I do like the United States Championship that I hold, maybe because I hold it. I got my awesome Theory plates on the side. I'll be rocking this for a little bit, but who knows, I might change it pretty soon, maybe,"
"For me, I definitely would have something that is more flashy. I love the spinner titles, I think they are great. Maybe there is a way to incorporate a camera or something on there. Take a selfie with the title. Imagine, you lay somebody out, and then you hold the title up and it's taking a picture of them on the ground. How cool is that?"(H/T Fightful)
He also revealed that the proudest selfie for him was with Vince McMahon,                                                              
"I would say my proudest one would have to be the selfie with Mr McMahon when I won the United States Championship."
Theory defeated Finn Balor on WWE RAW and won the WWE United States Championship on April 18, 2023. Over the years, several superstars have had their own custom championship belts, from Steve Austin's "Smoking Skull" to Daniel Bryan's "Eco-Friendly belt. In addition, Cena's custom spinner design was also incorporated into the WWE title.
Austin Theory reveals the inaugural selfie gimmick. 
While speaking on the show, Theory revealed how and with whom he tried his first selfie idea and informed about how he felt after the first selfie gimmick he did on RAW.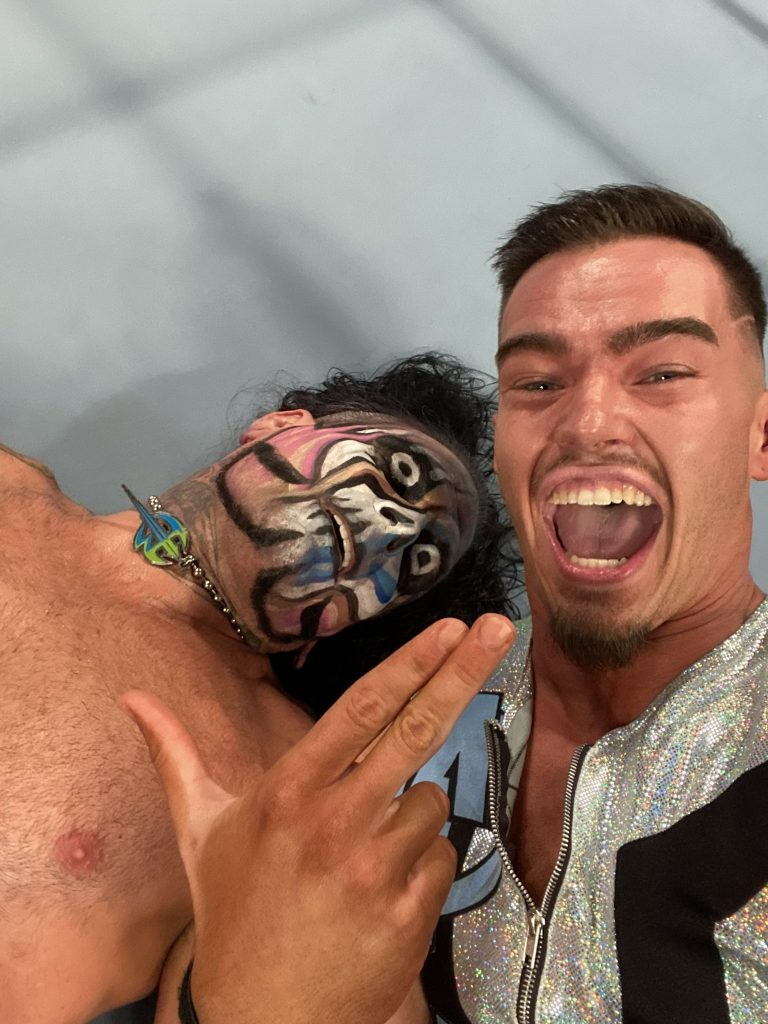 "What's really cool is when I was in 'NXT,' I actually tried a selfie idea with Tyler Breeze," Theory said. "I don't think that's the reason we did it [on the main roster], but it was cool that I tried that, and then when I got to 'Raw', there was this idea of me just knocking out Jeff Hardy and taking a selfie, and I was like, 'Wow, this sounds like the best thing in the world.'" (H/T Wrestlig Inc.)
The Theory made his debut on NXT in 2019. It was called to the main roster in 2020 to challenge for the RAW Tag Team Championship with Angel Garza at WrestleMania 36 and joined a stable led by Andrade. He was drafted to Monday Night RAW in October 2021, where he attacked Jeff and took a selfie.
More WWE news
Follow our dedicated WWE page for instant WWE news and updates.