Sports
A legendary faction is reunited at an Indie Wrestling Event
The Brood was a formidable and eerie stable in WWE during the Attitude Era of the late 1990s comprising Gangrel, Edge, and Christian.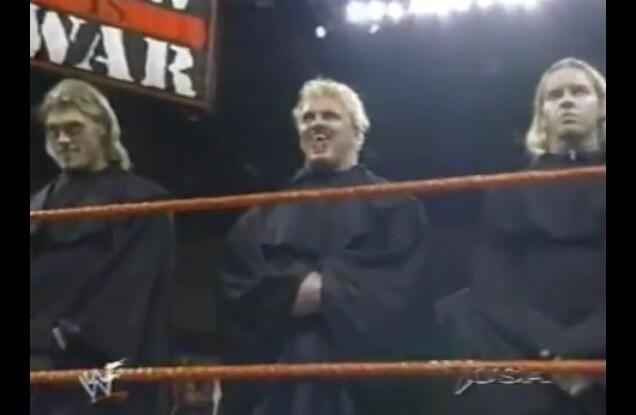 The gimmick of the stable was that of a clan of vampires. They even merged with The Undertaker's heel faction, Ministry of Darkness. However, after the Phenom asked Brood to sacrifice Christian, Gangrel and Edge refused and The Brood left the stable.
They competed in many six-man tag team matches before starting a feud with The Hardy Boyz. The Brood defeated The Hardy Boyz and Michael Hayes in a six-man tag team elimination match on the June 13, 1999, episode of Sunday Night Heat. The Brood split up when they lost to The Corporate Ministry and Gangrel turned on Edge. Gangrel asked Christian to do the same but Captain Charisma showed his loyalty to Edge and they both split from Gangrel.
The Hardy Boyz aligned themselves with Gangrel and formed The New Brood.
During the Big Time Wrestling's latest event on Saturday night in Prince George, Virginia, The Hardy Boyz and Gangrel had a reunion in the ring. The Hardy Boyz took on Gangrel and Joey Janela but The New Brood members posed together in the ring to roll back the clock and take the fans on a nostalgia trip.
The Brood references in WWE in recent times
The Brood has been referenced in WWE on a number of occasions in recent years. In the following segment, we will take a look at those instances.
On October 30, 2018, Halloween special episode of SmackDown, The New Day dressed up as The Brood during Big E's Trick or Street Fight against Cesaro.
During the Edge-Seth Rollins rivalry in 2021, the WWE Hall of Famer unleashed his Brood persona and gave the Visionary a bloodbath. At SummerSlam 2021, while making his entrance to face Rollins in a match, Edge used The Brood's entrance music and also emerged from a ring of fire on the stage.
On the December 27, 2021, episode of Raw, Miz and Maryse renewed their wedding vows. However, Edge had a surprise in store for them and it was another bloodbath.
Edge also mentioned recently while cutting one of his heel promos that his recent darker side was incorporated from the time he spent as a member of The Brood.
More WWE news
Follow our dedicated WWE page for instant WWE news and updates