Sports
5 Best 'I quit' matches in WWE History
'I Quit' matches are one of the deadliest bouts ever witnessed. Here are the 5 best 'I Quit' matches in WWE history.
WrestleMania Backlash recently saw an intensified 'I Quit match between Charlotte Flair and Ronda Rousey. The latter came out victorious and became the new SmackDown Women's Champion. It was a brutal match, which is what 'I Quit' matches are. Let's look at the 5 Best 'I Quit' Matches in WWE history.
1. Beth Phoenix vs Melina- One Night Stand 2008 
This was the first "I Quit" stipulation match in the Women's Division at One Night Stand 2008. Even though Beth Phoenix defeated Melina in a ferocious bout which showed the extraordinary strength of Phoenix and Melina's Flexibility.
This was one of the best women's matches of that era, which showed a glimpse of how bright the future can be for the women's division. Beth won the match and continued her heel timeline.
2. Ric Flair vs Mick Foley- SummerSlam 2006 
The two legends of WWE faced a violent 'I Quit match for the first time. Both Ric Flair and Mick Foley showed a unique and legitimate heat. They took heavy shots at each other and gave the fans a dream fight even in their older years.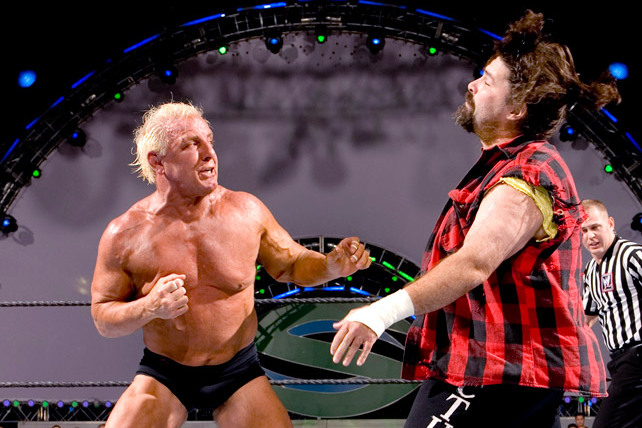 Foley's friendship with Melina forced him to quit when she covered his beaten body, and Flair also threatened to hit her with a barbed wire.
3. John Cena vs Batista- Over The Limit 2010
John Cena has been involved in several 'I Quit' matches, but this match certainly stands out as one of the best. The Main event of Over The Limit 2010 featured John Cena defending the WWE title against Batista.
They put their body and soul into the match and looked like they both were not giving up without the win. Even though the game occurred in the PG Era, there were several surprisingly violent spots. Finally, after a very intense 20 minutes, Batista said, "I Quit," and John Cena retained the title.
4. Roman Reigns vs Jey Uso – Hell in a Cell 2020
One of the most recent I Quit Match happened between Roman Reigns and Jey Uso. That was a combined stipulation I Quit Hell in a Cell match, which was an excellent bout. 
Roman even had tears in his eyes during the match because he didn't want to hurt his cousin, but he had to because the Universal Title was at stake. He was going to prove that he was The Tribal Chief. This game turned out to be one of the greats in recent times.
5. The Rock vs Mick Foley- Royal Rumble 1999
This match is known for the violence caused by it. However, the Royal Rumble match between The Rock and Mick Foley set the stage for the "I Quit" match stipulation and showed the fans how these superstars can go to come out on top. It was an unforgettable performance that came on the second biggest show of the year.
One of the most uncomfortable moments of the match was when Rock handcuffed Foley and hit him with a chair 11 times on his head. Nevertheless, it was a massive success for WWE, which showcased the brutality that wrestlers go through to make an "I Quit" match great.
More WWE news
Follow our dedicated WWE page for instant WWE news and updates.